In fact, international organizations use GDP at purchasing power parity (PPP) as a more accurate reflection of a country's economic growth. Additionally, GDP (PPP) can also be used to partially indicate the living standards of residents in a given country.
An overview of GDP (PPP) in Asian countries
According to IMF statistics, in 2022 China, India, Japan, Indonesia and South Korea are the top 5 countries that contribute to more than 70% of Asia's total GDP (PPP).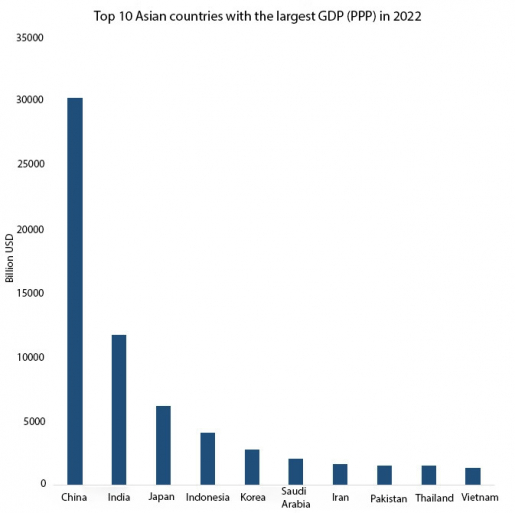 When it comes to Southeast Asia, Indonesia is currently the top country in terms of GDP (PPP), with a size of approximately 4.023 trillion USD. Vietnam and Thailand follow as the second and third-ranked countries, respectively, with a GDP (PPP) size of around 1.3 trillion USD and 1.48 trillion USD. The Philippines and Malaysia rank fourth and fifth in Southeast Asia, with a GDP (PPP) size of approximately 1.155 trillion USD and 1.096 trillion USD, respectively.
In 2022, Vietnam's GDP rose by 45.81 billion USD, pushing it to the fifth spot in ASEAN, surpassing that of the Philippines, Myanmar, Cambodia, Brunei, and Laos. It is predicted that Vietnam's GDP will continue to grow in 2023 and reach approximately 469,621 billion USD, ranking 3rd in ASEAN and 36th in the world.
Vietnam remains an appealing destination for investment in Asia
With such a high GDP (PPP), Vietnam is affirming its position internationally and in the region as one of the most attractive countries for investment in Asia.
1. Potential investment environment
Vietnam's constantly improving investment environment and close connection with the global economy have made it an increasingly favored destination for many foreign investors. Furthermore, Vietnam is also a member of numerous world economic trade agreements, most notably the Vietnam-EU Trade Agreement (EVFTA) and the Comprehensive and Progressive Agreement for Trans-Pacific Partnership (CPTPP).
2. The "China + 1" strategy
In recent years, Vietnam has emerged as a promising investment destination in Asia, alongside China. The fact that foreign direct investment (FDI) enterprises have shifted from investing in one to multiple countries also provides favorable conditions for Vietnam to become a notable destination for investment in Asia.
3. Reasonable costs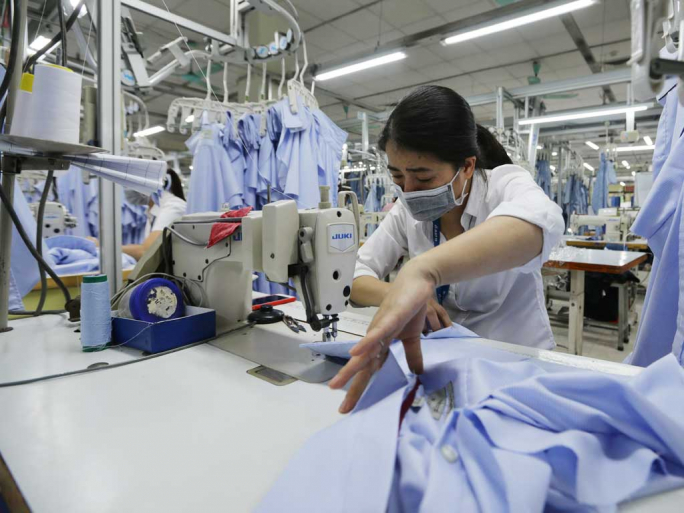 Vietnam is considered to offer more competitive rates for renting industrial property and labor compared to other Southeast Asian countries. Based on the latest report by Savills Vietnam, the average rental price of industrial real estate in Vietnam is approximately 4.6-6.4 USD/m2/month, which is lower compared to other countries such as Thailand (5.5-6.4 USD/m2/month), Malaysia (8.5 USD/m2/month), Indonesia (7-9 USD/m2/month), and the Philippines (6.5-8 USD/m2/month).
Similarly, compared to other Southeast Asian countries, Vietnam's labor cost is also highly competitive. According to a report by Navigos Search, in 2022, the average salary of production workers in Vietnam is around 250-350 USD/month, which is lower than that of Thailand (300-500 USD/month), Indonesia (200-400 USD/month), and the Philippines (250-400 USD/month). Nevertheless, it is worth noting that labor costs in Vietnam have been increasing rapidly in recent years.
4. Culture proximity
By choosing Vietnam as an investment destination in Asia, FDI enterprises in the region can take advantage of the cultural proximity to better understand the needs and behaviors of consumers, which can facilitate the expansion of their markets.
Gaw NP Industrial is a highly regarded industrial real estate developer in Vietnam that specializes in providing factories and warehouses for lease in key economic provinces such as Thai Nguyen, Hai Phong, and Ha Nam. Some of our most notable projects include GNP Yen Binh 1 and 2, GNP Nam Dinh Vu, and GNP Dong Van 3, which are catered to foreign enterprises investing in Vietnam. These projects offer several advantages, including:
Column-free design that maximizes usable space.
Wide internal roads that make it easy to transport goods.
Floor load capacity of up to 3 tons/m2, maximum roof height of 10m, and wall thickness of 1.2m.
Standard automatic fire protection system for safety.
Flexibility to operate as an export processing enterprise (EPE) or a regular enterprise (Non-EPE).
Additional facilities such as a wastewater treatment system, truck parking, canteen, and more.
For further information regarding investment opportunities in Asia and Vietnam, please feel free to contact our Hotline at +84 789 75 77 88.
Warehouse for lease in Vietnam | Warehouse for rent in Vietnam | Factory for lease in Vietnam | Factory for rent in Vietnam