Ranked 5th among 35 Asian countries in terms of economic openness (according to a report by Fitch Solutions), Vietnam is one of the most attractive investment destinations in Asia for the following reasons:
Stable economic growth
According to the 2022 Socio-economic Report by the General Statistics Office, the GDP growth rate of Vietnam during the period 2016-2019 was 6.8% per year. Despite the heavy impact of COVID-19 pandemic in 2020 and 2021, Vietnam still managed to maintain an average growth rate of 2.87% and 2.56% respectively. In 2022, Vietnam's GDP is expected to increase by 8.02% year over year, which is considered the highest growth rate in the past 10 years.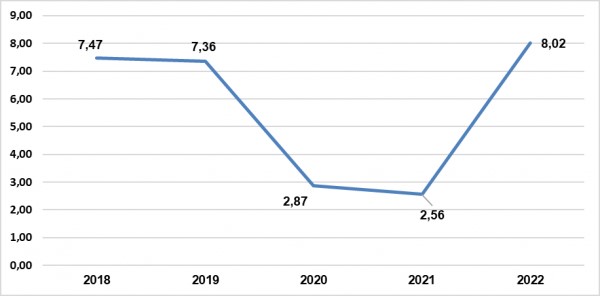 The GDP growth rate in the 2018 – 2022 period (%)
Favorable geographical location and stable political system
Vietnam is located in the center of the Southeast Asian region, serving as a trading gateway with countries in the region and all over the world. In addition, Vietnam has a long coastline and many seaports connected to the global transportation network, which facilitates the transportation of goods.
Vietnam is considered as one of the most politically stable countries in the world. Its policies to attract foreign investment always align with its economic development plan. Moreover, the transparent legal environment is also an important factor in drawing more foreign businesses to invest in Vietnam.
Several preferential policies for businesses investing in Vietnam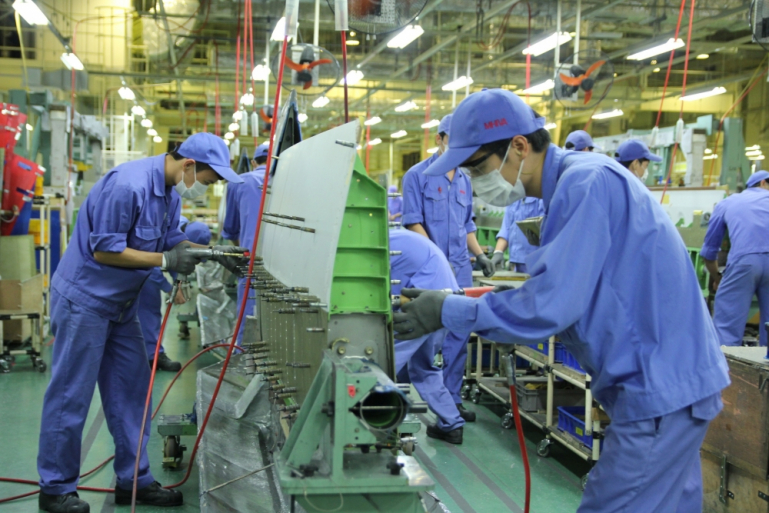 Not only is Vietnam a country with stable economic development, but it also welcomes foreign investors with many preferential policies such as corporate income tax exemptions/reductions, land rental fee waivers, import tax exemptions for certain industries, and support of legal procedures, etc.
Vietnam is also constantly refining administrative procedures and updating new policies as well as regulations to create favorable conditions for investors.
An abundant young workforce with competitive labor costs
At present, Vietnam has a population of over 99 million people, with an increasingly lower median age of 33.7 years. The working-age population aged 15 or above reached 51.4 million, accounting for 69.3% of the total population (data as of 2022 from the United Nations).
Besides the advantage of being young, the majority of Vietnamese workers are highly regarded for their competence, diligence, and especially their ability to learn and adapt quickly. The labor cost in Vietnam is only about 5% to 10% of those in developed countries, and slightly higher compared to that of countries with similar levels of income such as Cambodia, Myanmar, and the Philippines.
Many free trade agreements
Another reason why Vietnam has become an attractive investment destination in Asia is the fact that Vietnam has signed many free trade agreements with countries in the region and around the world:
Bilateral free trade agreements with South Korea, Japan, China, India, etc.
The FTA between Vietnam and the EU (effective from early 2018).
The Bilateral Trade Agreement (BTA) with the United States.
A member of the ASEAN Free Trade Area.
A member of APEC and the World Trade Organization.
The continued efforts in integrating into the global economy will help refine the business environment and provide a seamless experience for foreign businesses investing in Vietnam.
Businesses that choose to invest in Vietnam should rent ready-built factories or warehouses to save costs and go into operations more quickly.
Gaw NP Industrial is currently one of the most reputable industrial real estate providers with outstanding projects in the northern region of Vietnam, such as GNP Yen Binh 1 & 2 in Thai Nguyen, GNP Nam Dinh Vu in Hai Phong, and GNP Dong Van 3 in Ha Nam. These projects offer numerous advantages, including strategic locations, column-free design to optimize space, EDGE energy-saving certification, 24/7 security, modern fire protection and prevention systems, etc.
If you are interested in renting ready-built factories and warehouses in Hai Phong, Thai Nguyen, or Ha Nam to invest in Vietnam, please contact our Hotline at +84 789 75 77 88!
Warehouse for lease in Vietnam | Warehouse for rent in Vietnam | Factory for lease in Vietnam | Factory for rent in Vietnam