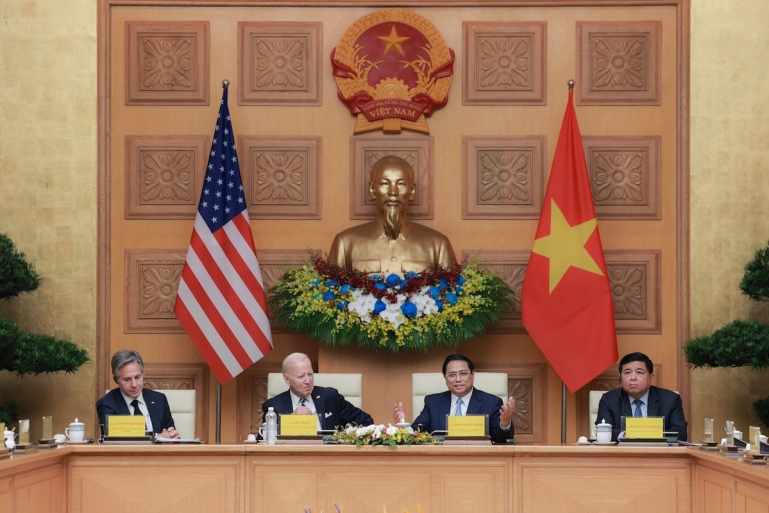 On the morning of September 11, Prime Minister Pham Minh Chinh and US President Joe Biden both attended the high-profile Vietnam-US Investment and Innovation conference. This was a pivotal moment during President Biden's state visit to Vietnam.
PM Chinh remarked, "One of the primary objectives of President Biden's visit is to foster Vietnam's economic growth, especially in terms of technology and innovation."
He added, "These areas, combined with investment, will be the new pillars of the Vietnam-US Comprehensive Strategic Partnership."
He also expressed hope that businesses from both nations would prioritise sci-tech investments, especially in the digital transformation, semiconductor industries, green growth, renewable energy, climate change mitigation, and the circular economy.
Highlighting the importance of this collaboration, President Biden stated, "This is a pivotal moment for both countries to boost their relations across every sector and bring about mutual prosperity."
He continued, "The US will support Vietnam with semiconductor technology, the green transition, and human resources training, allowing it to delve deeper into both regional and global value chains."
In a bid to capitalise on the opportunities for collaboration between US and Vietnamese companies, Vietnam's Minister of Planning and Investment Nguyen Chi Dung identified electronics, semiconductors, financial centres, innovative reforms, renewable energy, and new energy sources like hydrogen as prime sectors.
He said, "These are the realms where Vietnamese businesses can integrate more profoundly into global value chains and where US companies, with their notable strengths, can invest in Vietnam."
Furthermore, Minister Dung proposed stronger investment from renowned US semiconductor corporations, namely Intel, Amkor, Marvell, and Global Foundries, among others. He envisioned these entities building research and development centres in Vietnam, leading to the design of new semiconductor products.
He also encouraged Vietnamese enterprises to amplify their investments in the US, while simultaneously enhancing their capacities and capital to integrate into global supply chains.
Furthermore, he emphasised, "The Ministry of Planning and Investment will facilitate both US and Vietnamese businesses to invest successfully."
Trade between the two nations reached nearly $124 billion last year, marking a staggering 275-fold increase over 27 years. The US remains Vietnam's most significant export market and its second-largest trading partner. Conversely, Vietnam ranks as the US' seventh-largest global trading partner and the most prominent within ASEAN.
Source: Vietnam Investment Review
Warehouse for lease in Vietnam | Warehouse for rent in Vietnam | Factory for lease in Vietnam | Factory for rent in Vietnam