Electric vehicle sales are expected to average 25.8% annual growth over 2023-2032, and by 2032 reach up to 65,000 units, a nearly eight-fold surge from 2022, according to BMI Research, a Fitch Solutions unit.
The production of VinFast, Wuling HongGuang, Skoda and Hyundai-branded EVs from 2023-2032 will drive strong growth in the market, it said.
This year sales are set to rise 115% from last year to around 18,000 units, it added.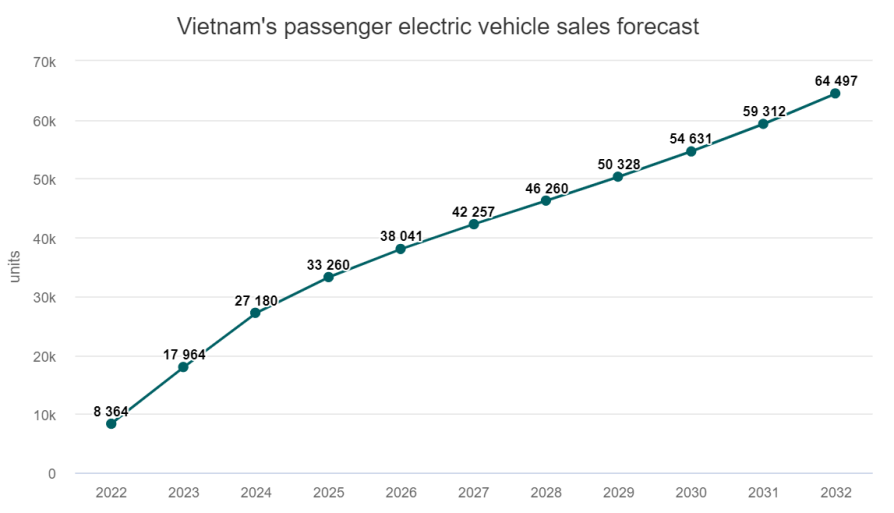 Vietnam's government announced in January that completely built-up units imported from ASEAN will continue to enjoy a tax-free policy until the end of 2027, and this will help increase imports from the region, BMI said.
Increased deliveries from VinFast, which account for over 50% of the domestic passenger EV market, and from Chinese companies which have announced their plans to set up factories in Vietnam will also drive up supply, it added.
Further supporting the domestic passenger EV segment is TMT Motors' production of the mini EV under the Chinese brand Wuling HongGuang. The factory has an annual capacity of 30,000 units in its first phase and 60,000 in its second phase.
The launch of Green SM taxi firm, which uses entirely VinFast EVs, will also help raise awareness among citizens and boost EV adoption, BMI said.
Vietnam's EV charging network is expanding, and although VinFast is currently dominating this industry, more players are set to compete starting this year.
Foxconn had earlier announced that it would build an EV charging and component production plant in Vietnam through an investment of $250 million which would help facilitate a more rapid expansion of the charging industry.
Source: VnExpress