Vietnam and Singapore encourage aid and development cooperation
The Singapore Regional Business Forum, with the topic "Strengthening Regional Cooperation for Sustainable Growth," drew almost 420 firms and organizations from 32 different nations and economies.
During the Forum, Vietnam and Singapore signed 12 MoUs to support growth and enhance cooperation in vital industries such as investment, finance, transportation and logistics, digitization, technical innovation and education, urban development, and so on.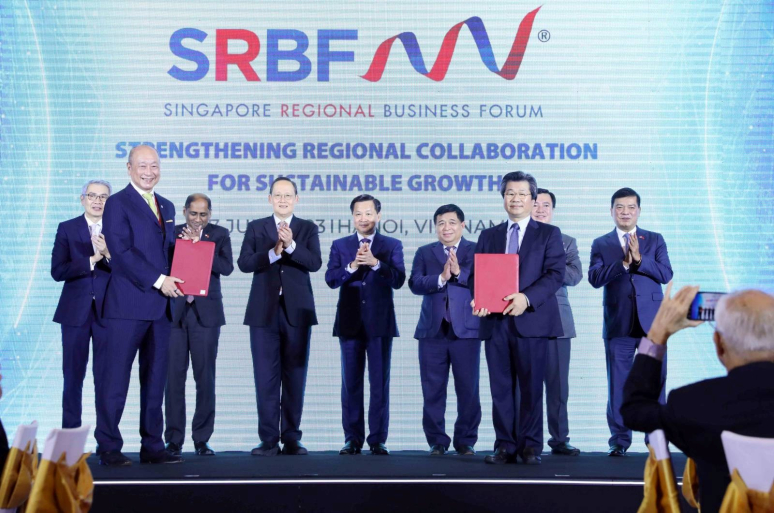 Vietnam and Singapore have 12 Memorandums of Understanding (MOUs) with substantial commitments:
The Singapore Business Federation (SBF) and Vietnam's Foreign Investment Authority (FIA) signed a memorandum of agreement to strengthen and enhance collaboration between the Singapore and Vietnamese business groups.

SBF and Techcombank formed a joint venture to boost foreign investment in Vietnam.

The United Overseas Bank (UOB) struck an agreement with the country's international Investment Agency to promote advantageous circumstances for international investment in Vietnam.

There are other key cooperation MoUs involving PSA Vietnam and Saigon Newport Corporation (SNP), Keppel Corporation, National University of Singapore and NIC, Singapore Manufacturing Federation (SMF), and Vietnam-Singapore Industrial Park (VSIP)…
Singapore dominated investment in Vietnam with more than $3 billion in the first six months of 2023, accounting for more than 22.3% of overall investment in Vietnam. Singapore has invested roughly $73.4 billion in Vietnam, accounting for 16.3% of total investment (source: Department of Foreign Investment, Ministry of Planning and Investment).
There are several chances for enterprises renting GNP Nam Dinh Vu ready-built factory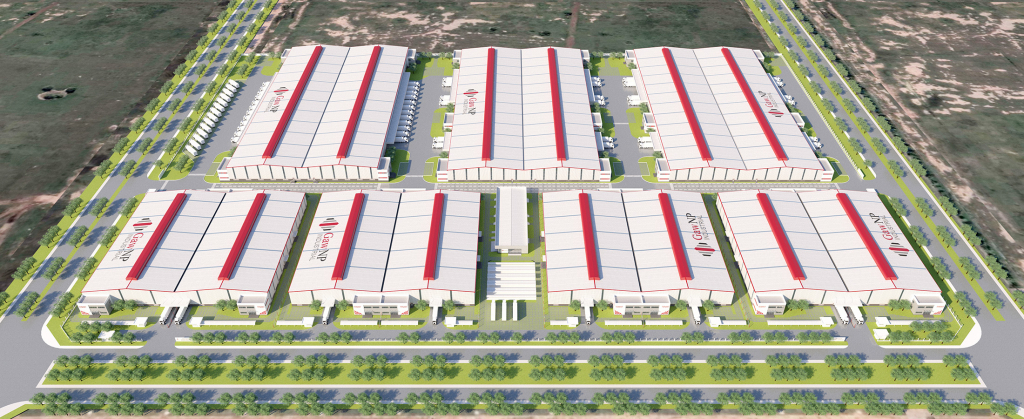 The signing of the MoU between Vietnam and Singapore might open the way for more collaboration and investment in critical sectors such as investment, transportation and logistics, digitalization, technology, and so on. This might provide advantageous conditions for firms whether renting GNP Nam Dinh Vu ready-built factory or engaging in commercial operations relating to the mentioned fields.
GNP Nam Dinh Vu ready-built workshop has the benefit of transportation and connectivity with worldwide markets due to its strategic position near Lach Huyen international deep water port and Hai Phong port, as well as convenient connection with the capital Hanoi, Noi Bai International Airport. 
Furthermore, the GNP Nam Dinh Vu ready-built factory features a clever design and entire infrastructure for companies to rent, including:
Internal column-free design helps in storage and production optimization.

The swinging door is 3m wide and 4.5m tall.

The workshop is 6.5m tall, and the office is 2.8m tall.

Three-phase power supply with a maximum capacity of 600 KVA/ unit.

The floor load capacity is up to 2 tons/m2, and the suspended ceiling capability is 20kg/m2.

1.2m brick wall with metal covering and a skylight above.

Obtaining EDGE accreditation for energy savings and long-term growth.

Tax breaks: A four-year tax exemption followed by a nine-year tax break.

Hiring a GNP Nam Dinh Vu ready-built factory will also provide businesses with legal advice on topics such as: procedures for establishing a business in Vietnam, entrance registration for senior individuals from overseas, support recruiting, and so on.
Domestic and foreign firms in need of GNP Nam Dinh Vu ready-built factory may contact the Hotline +84 789 75 77 88 immediately for full assistance.
Warehouse for lease in Vietnam | Warehouse for rent in Vietnam | Factory for lease in Vietnam | Factory for rent in Vietnam