This acknowledges the growth and competitiveness of Vietnam's electronics industry.
Vietnam ranks seventh in the world in terms of Apple manufacturing facilities.
According to DigiTimes, Vietnam has evolved to become a key manufacturer for Apple, with a total of 27 manufacturing factories as of 2022. This places Vietnam in seventh place globally and second in Southeast Asia, after only Thailand, which has 28 Apple manufacturing factories.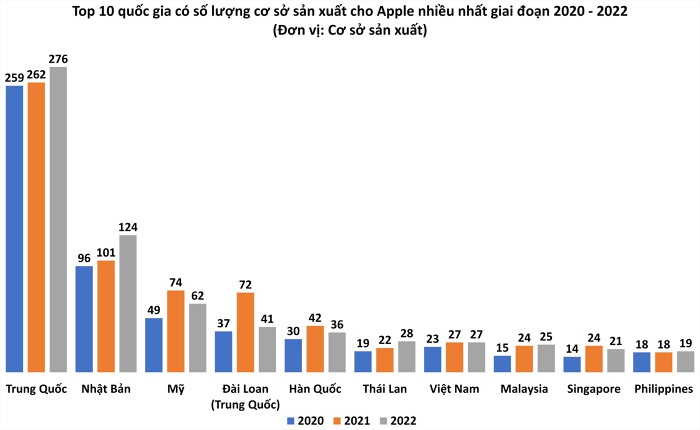 Top ten nations having the most Apple manufacturing plants in 2020-2022.
(Source: DigiTimes)
Meanwhile, according to Apple's newly released list, the number of facilities/manufacturing sites of more than 200 Apple's providers rose in China, Japan, Thailand, Malaysia, the Philippines, and India, while declining in their native nations – the United States and South Korea.
The fast expansion of the electronics sector in Vietnam has attracted the interest and investment of famous technology corporations such as Apple. This demonstrates Vietnam's progress and competitiveness in the sphere of electronics manufacture, while also opening up new potential for the country's economic development resources.
The reasons why Vietnam is valued highly by Apple
Vietnam's high position on the list of nations having Apple manufacturing facilities has confirmed Vietnam's global standing.
Cheap and skilled labor: Vietnam boasts a youthful, active workforce that can learn rapidly and at a low cost. This attracted multinational manufacturers and investors, including Apple, to Vietnam in order to take advantage of low-cost, high-skilled labor.
Infrastructure development and an appealing business environment:
Vietnam has made significant investments in infrastructure while also improving the business environment. The construction of industrial parks, export processing zones, and leased industrial real estate, as well as the promotion of administrative changes, has attracted foreign electronic manufacturers to invest in and grow their manufacturing operations in Vietnam.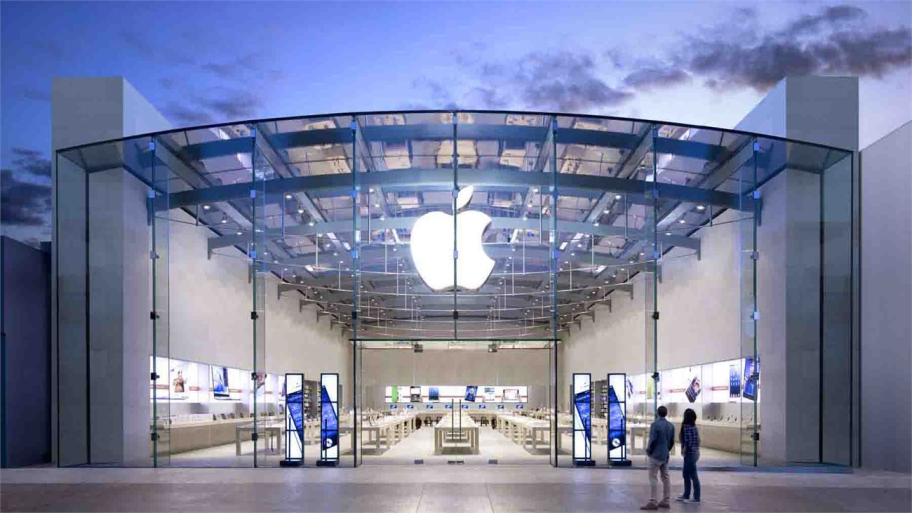 Reliable Partner: Electronics production facilities in Vietnam have established a long-term and trustworthy relationship with Apple. Vietnam has proven to satisfy Apple's quality, manufacturing process, and delivery time standards.
It is a noteworthy achievement for Vietnam, which ranks seventh on Apple's list of nations with manufacturing facilities, and demonstrates the rapid expansion of Vietnam's electronics industry. This will also provide prospects for the country to attract further investment and growth of the electronics sector in the future.
Invest in Vietnam by selecting Gaw NP Industrial's rental industrial property
Foreign corporations looking to invest in Vietnam can consider Gaw NP Industrial's rental industrial property:
Numerous options: Gaw NP Industrial has a number of industrial centers in the north, including Yen Binh 1 & 2 Industrial Center in Thai Nguyen, Nam Dinh Vu Industrial Center in Hai Phong, and Dong Van 3 Industrial Center in Ha Nam. These places frequently have reliable facilities and are adjacent to major seaports and highways, making freight movement and export easier.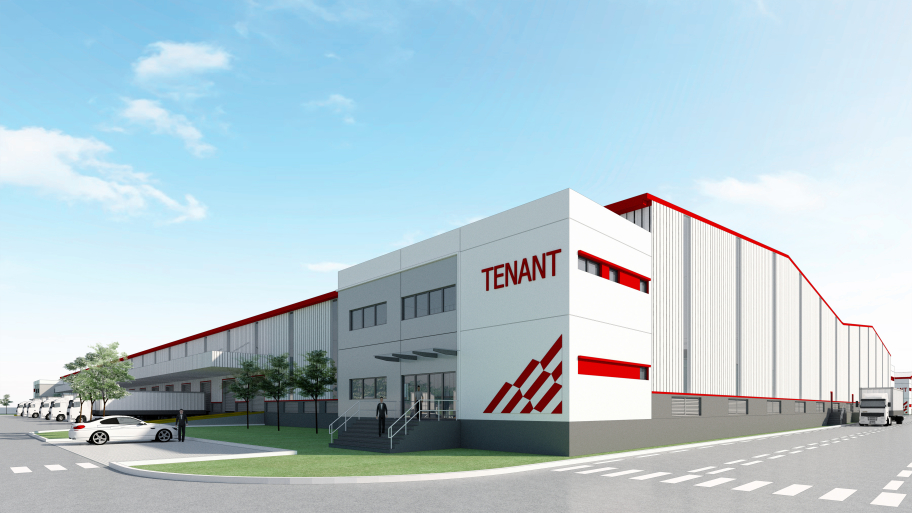 Reasonable rent: Gaw NP Industrial rental real estate projects provide lower rents and more flexible payment options. This makes it simple and cost-effective for businesses.
Furthermore, while selecting a Gaw NP Industrial industrial property for lease, the organization is also assisted in advising on legal concerns such as the processes for starting a business, recruiting personnel, acquiring a permit for foreign workers…
Infrastructure synchronization and development: Gaw NP Industrial has invested extensively in infrastructure, including 3-phase power supply, contemporary fire protection system, wastewater treatment system, canteen, truck parking space, etc. This guarantees that the firm has a pleasant working environment and can operate efficiently.
If your company needs to rent industrial property, please call Hotline +84789757788 for assistance.
Warehouse for lease in Vietnam | Warehouse for rent in Vietnam | Factory for lease in Vietnam | Factory for rent in Vietnam