Overview of the industrial real estate for lease market in Thai Nguyen
In 2022, according to the General Statistics Office, the accumulated realized capital of FDI projects in Vietnam is expected to reach almost $22.4 billion, which increases by 13.5% compared to the previous year. Investors from 108 countries and territories have contributed to this figure, with Singapore leading the way with nearly $6.46 billion, followed by South Korea with nearly $4.88 billion. Japan ranks third with a total registered capital of over $4.78 billion.
As for Thai Nguyen province, the Statistics Department reported that the province has adjusted and granted new licenses for 20 FDI projects throughout the year. The total registered capital of these projects reached $1.53 billion, which is remarkably 13,7 times higher than that of the previous year.
At present, Thai Nguyen province is home to seven concentrated industrial zones approved by the Government, namely Song Cong I, Song Cong II, Nam Pho Yen, GNP Yen Binh I, Diem Thuy, Quyet Thang, and Phu Binh, with a total area of 2,395 hectares. The province also has 35 industrial clusters, occupying a total area of over 1,335 hectares, with an average occupancy rate of about 44%. Notably, GNP Yen Binh 1 industrial park has achieved a 100% occupancy rate.
The annual turnover of enterprises in the industrial park reportedly exceeds $30 billion and more than 8,000 billion VND, creating stable jobs for nearly 100,000 workers.
Industrial real estate for lease: The optimal solution for investors
When launching a business in Vietnam, foreign enterprises in Vietnam encounter various challenges, including:
Navigating the required legal procedures.
Identifying a suitable business location with a stable socio-economic growth rate.
Covering expenses for building industrial infrastructure, including systems of internal transportation, fire protection, electricity, water supply, and wastewater treatment, etc.
Industrial real estate has proven to be the best solution to the aforementioned issues given the fact that the industrial real estate for lease market, despite its strong growth, has yet to satisfy the huge demand of both domestic and foreign enterprises. Not to mention that many projects that are currently under construction have already signed memorandums of understanding (MoUs).
GNP Yen Binh 2: A project to attract considerable interest in Thai Nguyen
As one of the most reputable industrial real estate for lease providers at present, Gaw NP has made significant investments in numerous projects in many cities and provinces. Almost all projects invested by Gaw NP boast large-scale and substantial investment costs while meeting international standards. In addition, Gaw NP is committed to providing maximum support to tenants from the initial consulting stage and beyond.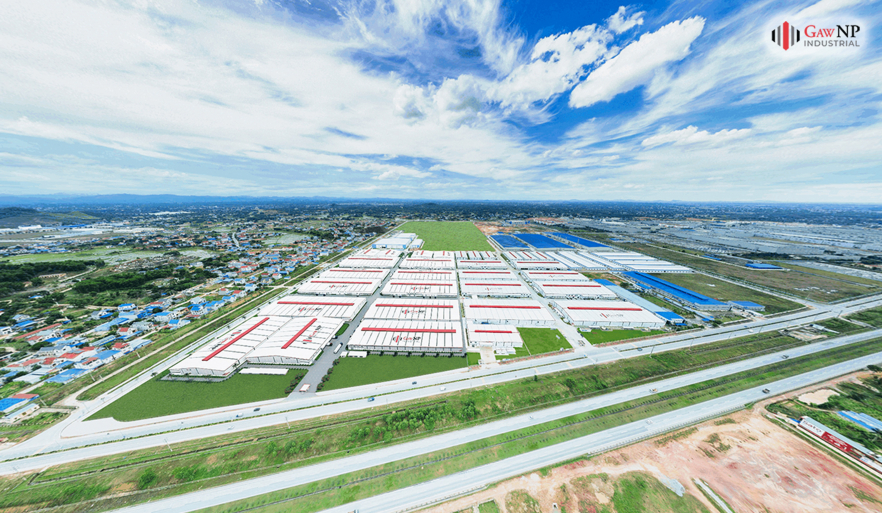 A Gaw NP's project that is currently generating buzz among domestic and foreign investors is GNP Yen Binh 2 at Thai Nguyen. Situated at the heart of the industrial hub of Thai Nguyen, the industrial real estate for lease project offers numerous advantages, including:
Land area: 160,000 m2; NLA: 70,000 m2.
Flexible leasing area starting from 2,700 m2 with single workshops, allowing businesses to customize the area to meet their specific needs.
Ideal location at an important intersection point, joining Viet Tri and Bac Giang to form a key industrial triangle of the Northern midland and mountainous provinces, thereby taking full advantage of the available natural resources and labor force in Thai Nguyen.
In particular, the industrial real estate for lease project GNP Yen Binh 2 boasts several notable features:
Column-free workshops for maximum usable space.
Transparent porch and wide internal roads.
Optimal design to take advantage of natural lighting, reducing energy consumption.
24/7 security and automatic fire protection systems that meet international standards.
Flexibility to operate as an export processing enterprise (EPE) or a regular enterprise (Non-EPE).
All-in-one supporting facilities such as parking lots, modern canteens, cafeterias, ATMs, and wastewater treatment systems.
For more information about the industrial real estate for lease GNP Yen Binh 2, please contact our Hotline at +84 789 75 77 88.
Warehouse for lease in Vietnam | Warehouse for rent in Vietnam | Factory for lease in Vietnam | Factory for rent in Vietnam