GNP Yen Binh 2 Industrial Center is a high-quality ready-built factory model that promises to be a shining spot in the near future.
Thai Nguyen, an industrial park on the verge of development
With Viet Tri city and Bac Giang province, Thai Nguyen province has become a focal point of the industrial triangle, an important economic cluster of the Northern midland and mountainous provinces. As a result, Thai Nguyen has become an appealing investment destination for many foreign investors in recent years, contributing significantly to the province's and Vietnam's economic development.
Thai Nguyen's PCI (Provincial Competitiveness Index) ranked 11th out of 63 provinces in 2020. Notably, the total number of foreign direct investment projects in 2021 reached 170, with a total capital of more than 1 billion USD. Thai Nguyen has become one of the greatest FDI draws with US$9.67 billion, generating an industrial output of up to US$36 billion, ranking second in the context that the country is under the economy and society's adverse impact after the pandemic.
Furthermore, the total skilled labor of Thai Nguyen reached 75% of the 1.3 million population, with an immigration rate as high as 50%. This advantage has provided Thai Nguyen with a substantial benefit: the diversity of labor resources, age groups, and skills for industrial clusters or manufacturing enterprises.
The key to this achievement is the authority's management and assistance in generating the best environment for businesses and strong labor protection policies.
Thai Nguyen's purpose and ambition are to quickly turn the province into a modern industrial capital as well as a sustainable socio-economic center developing green and clean industries.
Potentials of GNP Yen Binh 2 ready-built factory in Thai Nguyen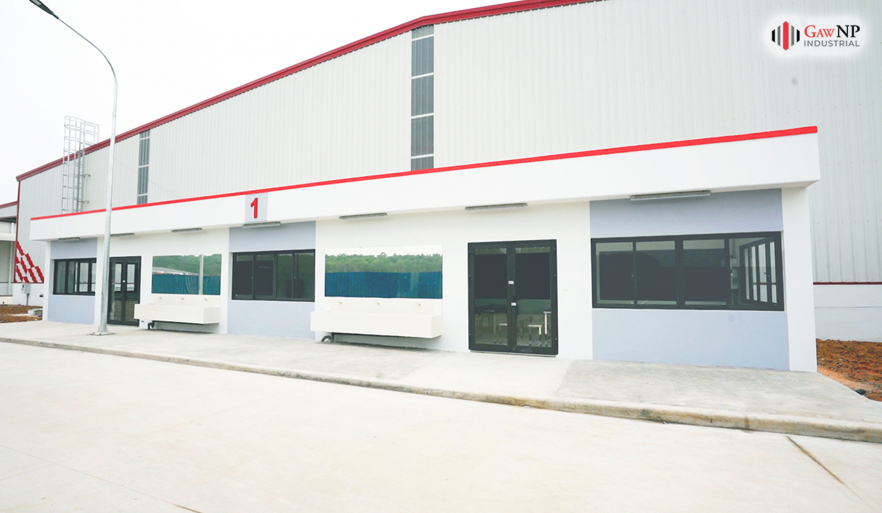 GNP Yen Binh 2 ready-built factory assures to become one of the major industrial centers belonging to Thai Nguyen, taking advantage of this province's geographical location, economics, and development policies.
The total land area of GNP Yen Binh 2 Industrial Center is 160,000sqm, with an NLA of up to 110,000m2. Inside, the area for lease per factory starts from 2,500m2. As a result, businesses can flexibly choose the appropriate space and easily expand the areas for the next development stages.
The GNP Yen Binh 2 ready-built factory is located near residential areas, schools, hospitals, and Samsung factories, making it extremely convenient in terms of infrastructure. The GNP Yen Binh 2 is strategically located on the Hanoi – Thai Nguyen Expressway, allowing easy access to transportation hubs such as seaports, Van Don airport, Noi Bai airport, and the Vietnam – China border gate.
Not only located in a privileged location but the GNP Yen Binh 2 ready-built factory is also optimized in terms of design and investment in available facilities to best serve the production of enterprises:
– No columns inside the factory's space.
– Consecutive canopy, wide internal roads to optimize the use area, and convenient import and export.
– The natural light system saves electricity consumption.
– Maximum roof height 10m.
– Standard automatic fire protection system.
– Can operate flexibly under EPE or Non-EPE.
– Other facilities include car parking, modern canteens, and a wastewater treatment system.
GNP Yen Binh 2 ready-built factory is expected to be completed in August 2022. After signing the contract, enterprises will be able to instantly begin using the available design and utilities.
GNP Yen Binh 2 ready-made factory is currently open for you to take a real site visit. To make a reservation, call Hotline +84 789 75 77 88.
Warehouse for lease in Vietnam | Warehouse for rent in Vietnam | Factory for lease in Vietnam | Factory for rent in Vietnam