According to recorded statistics, Vietnam has achieved outstanding import and export scale performance from 2011 to 2020 and has set a target for both scale and depth over the next ten years.
This demonstrates the significant expansion in the import and export industry, particularly export processing sector, and the necessity to acquire ready-built factory models. So, why is there an increase in export processing enterprises and the factory for rent model?
The characteristics and incentives of EPE
Export Processing Enterprise (EPE) is an enterprise established and operating in an export processing zone or an enterprise specializing in producing products for export, which works in an industrial park or economic area.
Due to this specificity, the requirements and procedures for forming EPE enterprises are much stricter than those of non-EPE enterprises and also receive more incentives from the  Vietnamese government's strategy to promote the trend direction of economic restructuring.
 Standard
EPE

 Requirements for operation

 – Must ensure the type of activity is production.

 – Completely separate from non-EPE businesses by a system of fences and separate entrances.

 Purposes

 – Founded to attract foreign companies, and all manufactured products must be exported entirely abroad.

 Geographical boundaries

 – Are border customs and tariffs.

 Tax incentives

 – Duty-free imports and exports.

 – VAT: apply the tax rate of 0%.

 – CIT: tax exemption for the first two years, 50% decrease in the 17% tax rate due over the next 4 years. For businesses that have not yet made a profit, there is a maximum of 3 additional years of tax exemption in the first period.

 – Enjoy many incentives from investment policies, encouraging exports.
With these characteristics, it is easy to see why more EPE enterprises are looking for and choosing ready-built factories for lease. This appears to be the greatest alternative for minimizing initial costs and construction time, as well as reducing legal procedures. However, selecting a ready-to-move-in factory to meet the sort of EPE remains challenging.
4 reasons EPE businesses should consider choosing GNP Yen Binh 2 ready-built factory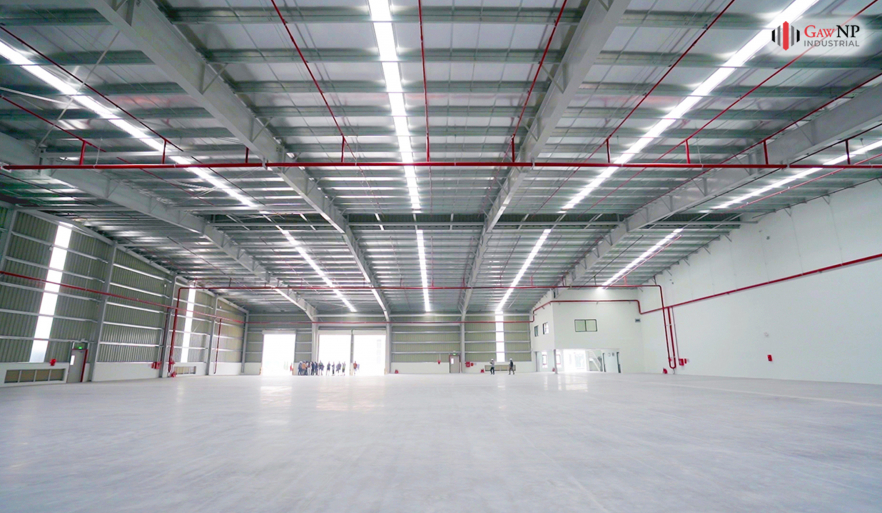 Four concerns that EPE enterprises must carefully consider when leasing a ready-made factory in the first stage include dealing with the location of a ready-made factory to ease the transportation and exchange of goods. The policies of each province, whether the natural conditions where the factory is located and the rental factory's infrastructure are in good condition or not, are all issues. As a result, the GNP Yen Binh 2 ready-built factory is the best option for businesses when:
– The focal-point geographical location and transportation convenience: GNP Yen Binh 2, the ready-built factory for rent, is located near the residential areas, schools, and hospitals, and is notably close to the Samsung factory. It takes only 10 minutes to reach Pho Yen city and 30 minutes to Noi Bai airport or the Bac Ninh logistics hub. The ready-made factory Yen Binh 2 is also adjacent to a number of major highways, including the Hanoi-Thai Nguyen, Hanoi-Hai Phong, and National Highway 1B. It is therefore straightforward and quick to go to significant transportation hubs such as the Lao Cai border gate and four seaports: Hai Phong, Nam Dinh Vu, Lach Huyen, and Cai Lan (less than 4 hours).
– Beneficial tax incentives and policies to promote and stimulate Thai Nguyen provincial investment, especially for EPE enterprises renting and leasing ready-built factories to produce goods.
– The mild climate, abundant skilled labor resources, and a high rate of immigration.
– High-quality infrastructure is invested in this premium-built factory, including an extensive capacity power supply system, natural light system, and 24/24 security optimizing space usage with consecutive canopy, no columns inside, wide internal roads, and many other facilities.
With a vast advantaged geographical position, optimal mobility to export and import raw materials, and invested in infrastructure with high quality, GNP Yen Binh 2 premium-built factory is the base association that cannot be ignored. Specifically, the Thai Nguyen provincial administration is optimistic about devoting many supportive policies, along with the young labor force and favorable natural conditions in the locality. Sure, this is a not-should-be-missed opportunity for foreign businesses that tend to "transition" to Vietnam, and domestic businesses that want to expand their production scale.
Please contact Hotline +84 789 75 77 88 for more detailed advice.
Warehouse for lease in Vietnam | Warehouse for rent in Vietnam | Factory for lease in Vietnam | Factory for rent in Vietnam