Nam Dinh Vu Industrial Park is honored for its well-developed industrial and logistics infrastructure
Nam Dinh Vu Industrial Park is situated within the Dinh Vu – Cat Hai coastal economic zone. Therefore, it enjoys a strategic location, being in close proximity to the sea and having access to a robust transportation network that boasts all five key transportation modes – international seaway, inland waterway, railway, road, and air. Such a geographical advantage helps optimize logistics costs for the Northern region and international freight transport.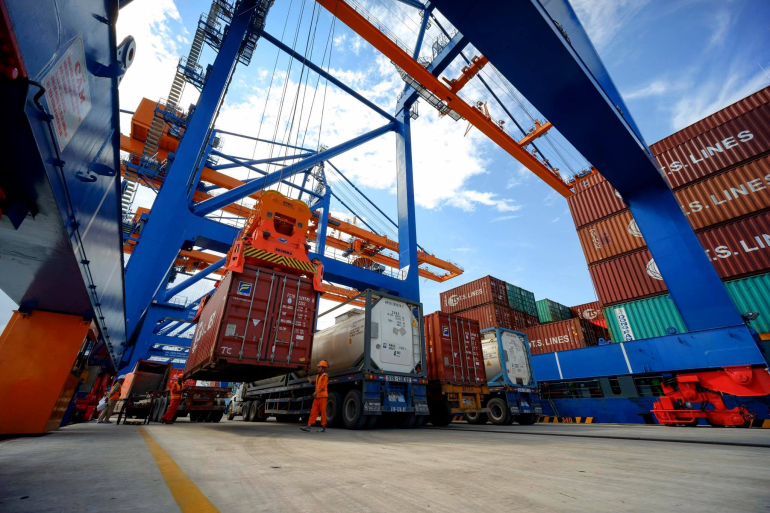 Nam Dinh Vu Industrial Park is divided into four interconnected subdivisions: the seaport and logistics area, petroleum and chemical zone, industrial park, and a multifunctional complex. Notably, Nam Dinh Vu port stands out with its innovative and modern design, capable of accommodating vessels up to 40,000 deadweight tons. The port encompasses seven berths dedicated to containers and general cargo, with a total capacity of handling up to 20 million tons per year.
Several renowned logistics companies are doing operations in Nam Dinh Vu Industrial Park, including Gemadept, Pantos Hai An, SLP, Hai Phong Port Services, JD, Allan Logistic, and many more. The large number of logistics units has created a thriving ecosystem of logistics solutions for businesses here.
In October 2022, Nam Dinh Vu Industrial Park was honored for its well-integrated industrial and logistics facilities in Hai Phong by the Vietnam Confederation of Commerce and Industry (VCCI) as part of the selection program for the Typical Industrial Park in 2022.
The unique advantages of GNP Nam Dinh Vu ready-built warehouses for lease properties
GNP Nam Dinh Vu ready-built warehouses for lease properties are situated within Nam Dinh Vu Industrial Park – one of Hai Phong's most developed industrial parks and a hub that facilitates both domestic and international transportation. The park is conveniently located just 11 km from Lach Huyen International Deep-Water Port, 13 km from Cat Bi International Airport, 15 km from Hai Phong Port, 16 km from Hai Phong city center, 122 km from Hanoi capital, and 130 km from Noi Bai International Airport. This strategic location facilitates efficient transportation of goods to various domestic and international destinations.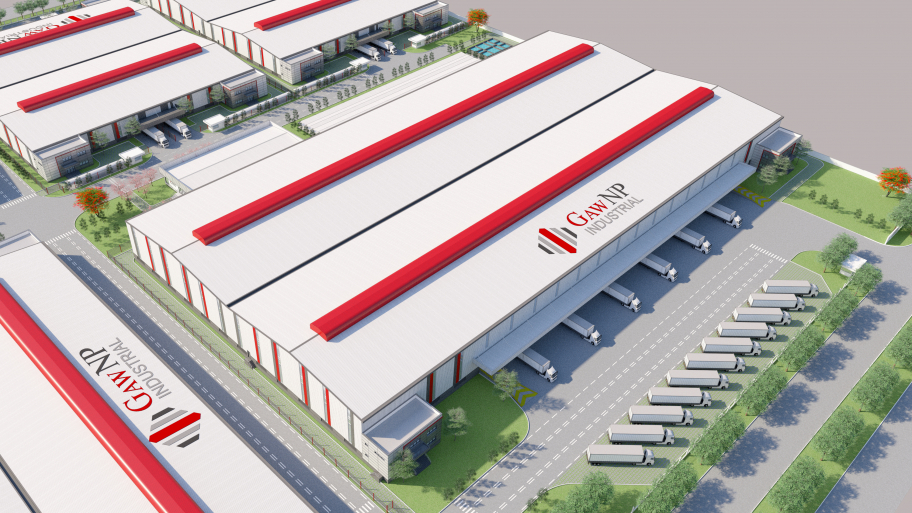 GNP Nam Dinh Vu offers a diverse range of ready-built warehouses for lease with a minimum leased area of 4800 m2 that can meet the needs of all small, medium, and large businesses. By selecting GNP Nam Dinh Vu, businesses can leverage the existing industrial infrastructure available such as well-established roads, reliable electricity supply, water and telecommunications infrastructure, wastewater collection and treatment systems, water supply and drainage systems, etc., thereby saving valuable time and resources that would otherwise be spent on building their own warehouses from scratch.
Besides, GNP Nam Dinh Vu ready-built warehouses for lease properties come with intelligent design so that businesses can go into operations quickly. All ready-built warehouses are column-free to maximize usable space, a maximum height of 10 meters, ventilation doors, skylights, fireproof walls, a wastewater treatment system, 3-phase electricity, 24/7 security, surveillance cameras, and modern fire protection systems with underground faucets, all complying with national standards.
In addition to leveraging the industrial infrastructure and logistics system here, businesses that operate in GNP Nam Dinh Vu can benefit from various tax incentives, including:
Tax exemption for the first 4 years and a 50% reduction for the subsequent 9 years.
Exemptions on import tax rates for Export processing enterprises.
Exemptions on value-added tax (VAT) for Export processing enterprises.
Any interested business that would like to obtain more information or schedule a visit to ready-built warehouses for lease at GNP Nam Dinh Vu, please contact our dedicated Hotline at +84 789 75 77 88.
Warehouse for lease in Vietnam | Warehouse for rent in Vietnam | Factory for lease in Vietnam | Factory for rent in Vietnam