Hai Phong is a center of the seaport economy continuously strengthened by synchronous transport infrastructure projects, thereby attracting many investors with increasing confidence. Although also experiencing a period of slowing down according to the general rhythm of the market, Hai Phong real estate is still forecasted to be vibrant and grow well in 2023.
Northern Hai Phong city has identified industry and technology, seaports and logistics, and tourism and trade as three key pillars to fulfill its economic goals.
The city will invest in infrastructure and site clearance for industrial parks and complete procedures to establish four new industrial parks. It will continue to speed up the progress of projects building container terminals at Hai Phong International Port and call for investors to build a national logistics center and will invest in completing its coastal road network.
Join us to find out why Hai Phong should be your next investment destination through showcases and discussions with the city leaders, investors and professional consultants. Get ready to benefit from its rich resources and strategic geographical location!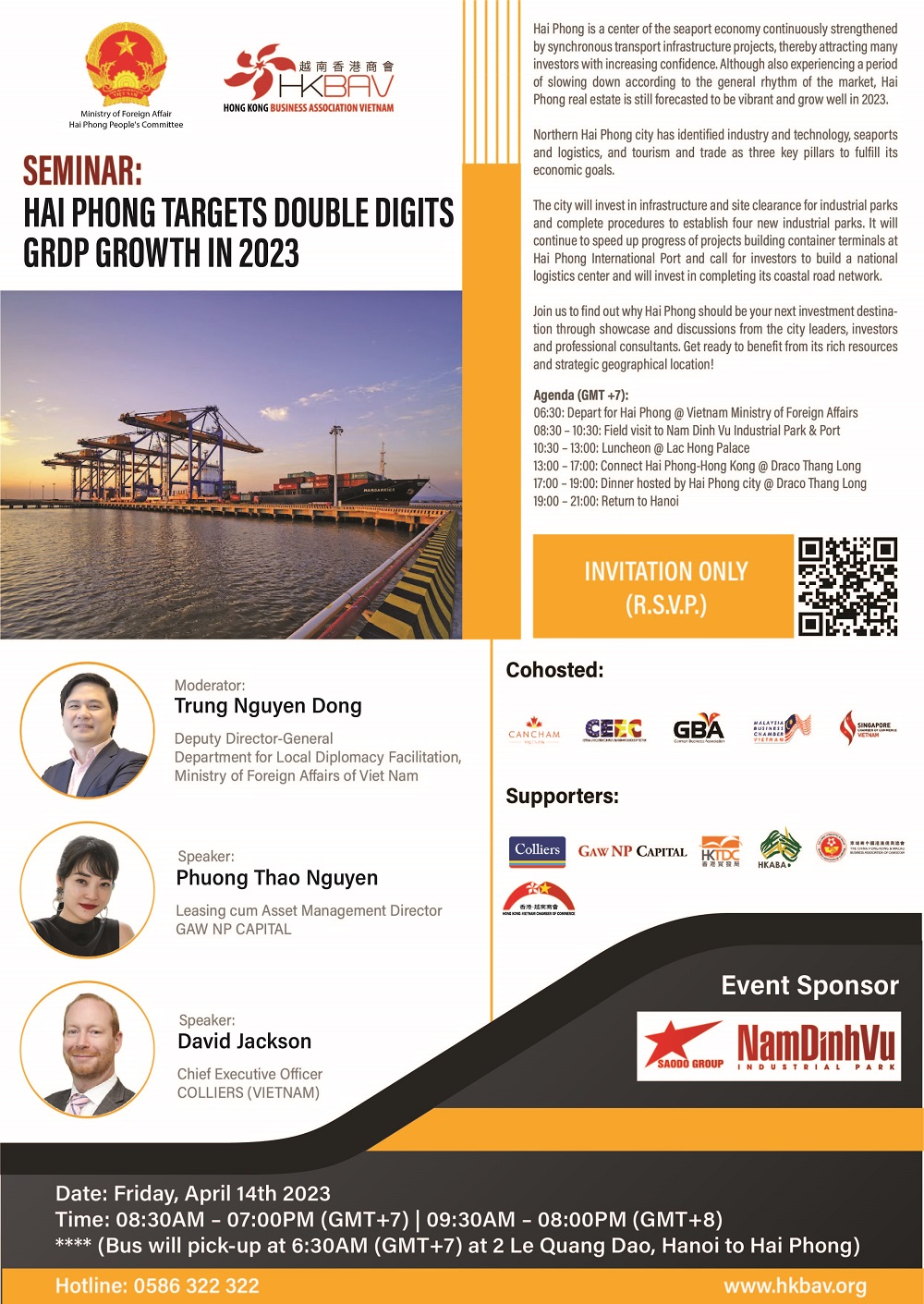 SPEAKERS INFORMATION

Mr. Trung is a professional diplomat who has built up a wide range of experience in various fields of bilateral and multilateral diplomacy. He has extensive experience working on ASEAN issues and supporting Viet Nam localities in relation to foreign partners. He has a daughter and a son.
He graduated in 2004 from Foreign Trade University, Viet Nam and obtained a Master of Arts in International Economics at the Diplomatic Academy of Viet Nam. He had an English Language Training for Officials (ELTO) at Victoria University, New Zealand in 2009 and is fluent in English.
He began his diplomatic career at the Ministry of Foreign Affairs at the ASEAN Department in January 2008. In 2011, he was appointed Consul, Viet Nam Consulate General in Sydney, Australia. After finishing his mission in Australia, he returned to ASEAN Department and become an important member in ASEAN Viet Nam 2020 teams. Before being Deputy Director-General of the Department for Local Diplomacy Facilitation since September 2021, he was Assistant Director-General, Senior Government Official at ASEAN Department.
In his diplomatic career, Mr. Trung Nguyen Dong has been conferred with many diplomatic awards of high distinction.

With over 12 years of experience, Ms. Nguyen Phuong Thao has been a noteworthy leader in industrial and commercial real estate. She has shown her outstanding performance in pitching and deal-making with MNC, FDI clients, 3PL, FMCG, and retailer clients in various industrial projects across Vietnam. Prior to joining Gaw NP Capital, she is a former Vice President of Leasing at Emergent Capital Vietnam and Head of Leasing North for Industrial & Logistics at CBRE Vietnam. Having built an extensive network in this industry, Thao's current role as Leasing cum Asset Management Director at Gaw NP Industrial has leveraged her industrial expertise and strategic planning for deal sourcing across Vietnam, bringing the comprehensive products suite and value-added solution to offer a seamless experience for all investors/partners.

David Jackson is the Chief Executive Officer of Colliers (Vietnam), managing the operational aspects of the company along with setting the strategic vision and goals. He has a broad and diverse level of expertise in managing business, capital markets, transactional management, and valuations and advisory. With over eighteen years of experience in Commercial Real Estate and Management Services, he advises a wide range of clients in an international and local capacity.
Since arriving in Vietnam in 2008, David worked with a number of major occupier accounts and has been a primary advisor to large-scale organizations such as REE Corporation and Kumho Asiana as well as undertaken a variety of roles within Colliers. An active member of the Ho Chi Minh City business community, particularly in the Business Executive Network, he is also a supervisor and councilor to candidates of RICS and a member of the Board of Directors of Victory Capital.
David is a keen advocate for technology and sustainable building practices, as well as diversity and inclusion in the workplace. He is also a pioneer in charity donations to Hope School, a school for disabled children.
Agenda (GMT +7)
06:30: Depart for Hai Phong @ Vietnam Ministry of Foreign Affairs
08:30 – 10:30: Field visit to Nam Dinh Vu Industrial Park & Port, Hai Phong.
10:30 – 13:00: Luncheon @ Lac Hong Palace, Hai Phong.
13:00 – 17:00: Connect Hai Phong – Hong Kong @ Draco Thang Long, Hai Phong.
17:00 – 19:00: Dinner hosted by Hai Phong city @ Draco Thang Long, Hai Phong.
19:30: Return to Hanoi
Please click here for more information about Hai Phong.
Online registration: https://forms.gle/2TnKdZoJtbJk9dRb6
Source: HKBAV
Warehouse for lease in Vietnam | Warehouse for rent in Vietnam | Factory for lease in Vietnam | Factory for rent in Vietnam