Leading Vietnam GAW NP Industrial is delighted to announce the groundbreaking ceremony of its GNP Nam Dinh Vu – Industrial Center, a premium ready-built factory and warehouse for lease project, on September 27th, 2022.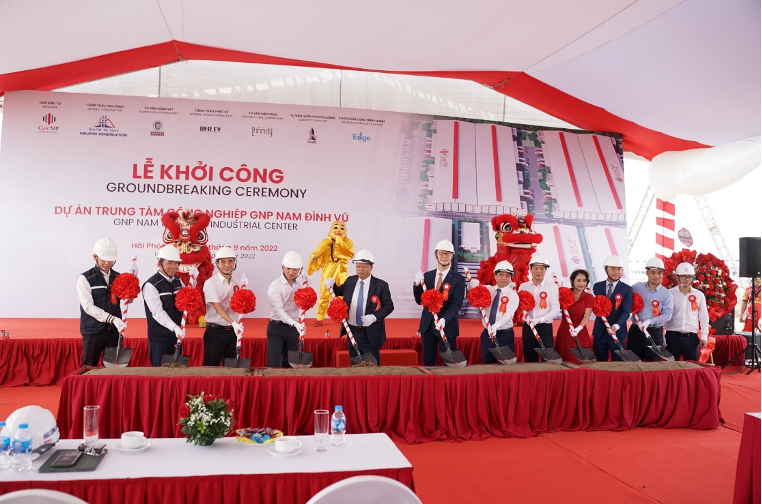 Tenant – centric facilities and services
Covering an area of 17-hectare, GNP Nam Dinh Vu – Industrial Center aims to provide first-class tenants with state-of-the-art infrastructure which ensures factory safety, operational efficiency, and sustainability. Tenants would benefit from the facility's superior features, including open factory floor plans with no internal columns to maximize production area and supporting facilities for operational ease such as canteens, ventilation, fire sprinkler system, CCTV and lighting. Moreover on-site customer service, including security team, and the one-stop leasing process are to help tenants quickly settle down and start their production hassles free.
Strategic location in the Northeast Economic Triangle
Situated in Nam Dinh Vu Industrial Park, Dinh Vu-Cat Hai Economic Zone, Hai Phong City, GNP Nam Dinh Vu – Industrial Center lies in the heart of the Northeast Economic Triangle – Nam Dinh Vu Non-tariff and Industrial Park. This strategic location allows the tenants to enjoy advantages of high connectivity through the seaport system including Lach Huyen International Deep-Sea Port (11km), and Hai Phong Port (15km), the main gateway for import and export for the North of Vietnam.
Additionally, Nam Dinh Vu Industrial Park is the only industrial park in Vietnam with an internal seaport – Nam Dinh Vu Port which features a large ship turning area of 300 meters and can accommodate vessels weighing up to 40,000 DWT. The facility is also close to Cat Bi International Airport (13km) and Noi Bai International Airport (130km). The convenient surrounding domestic and international transportation infrastructures facilitate express goods delivery, lowering costs and risks related to logistics.
In addition to the world-class and synchronous infrastructure, investors renting facilities at GNP Nam Dinh Vu – Industrial Center can also enjoy the most attractive corporate income tax incentives and other professional support service packages. 
Developed infrastructure, cost-effective and abundant labor supply
"The GNP Nam Dinh Vu – Industrial Center offers incredible domestic and international transport links and Vietnam's most attractive tax incentives. In line with our long-term green and sustainability targets, GNP Nam Dinh Vu will provide rooftop solar panels and has an EDGE Certificate. The project with flexible and diverse RBF and RBW solutions from as small as 2,500 sqm is very well designed to cater the growing supply chain needs," confirmed Ms. Nguyen Phuong Thao, Leasing cum Asset Management Director of GAW NP Industrial.
Indeed, noted for its developed infrastructure, cost-effective and abundant labor supply, as well as business-friendly investment environment, Hai Phong has become an alluring destination for foreign investors, attracting 827 FDI projects with total registered capital of approximately $24 billion. More than 90% of the total investment capital is poured into the city's economic and industrial parks. The town boasted investments from leading domestic and multinational manufacturers, including LG, Pegatron, Bridgestone, GE, Fuji Xerox, and VinFast.  Inevitably, the GNP Nam Dinh Vu – Industrial Center project is set ready to join in this robust development wave while reinforcing Gaw NP Industrial's extensive footprint in Vietnam.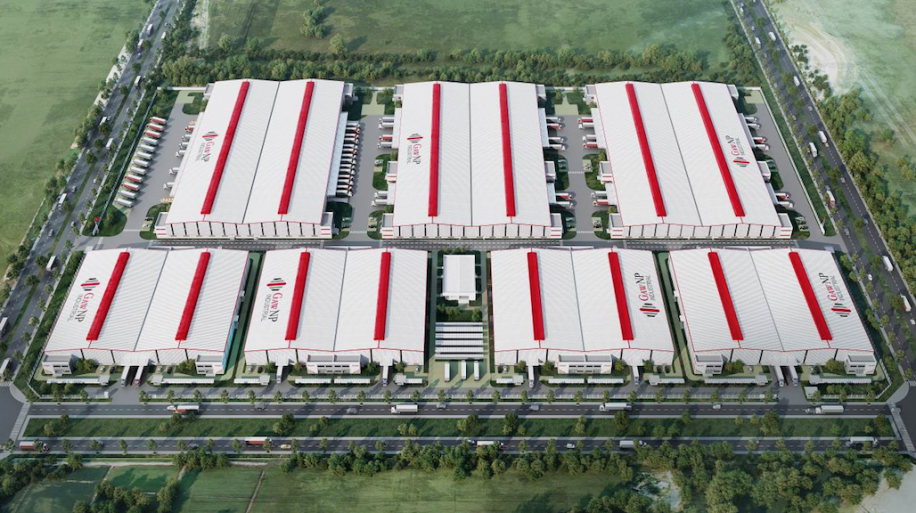 3D Landscape of GNP Nam Dinh Vu – Industrial Center in Hai Phong City
About GNP Nam Dinh Vu – Industrial Center
Location: Nam Dinh Vu Industrial Park, Dinh Vu-Cat Hai Economic Zone, Hai An District, Hai Phong City, North Vietnam
Product: Ready-built Factory (RBF) and Ready-built Warehouse (RBW) for Lease
Land area: 170,000 sqm
Leasable area: 110,000 sqm (85,000 sqm of RBF and 25,000 sqm of RBW)
Availability: Q2/2023
About GAW NP Industrial
As a leading industrial developer empowered by GAW NP Capital – a $200 million platform backed by GAW Capital Partners, GAW NP Industrial has an extensive premium industrial product portfolio across Vietnam, including Ready-built factory/warehouse, Built-to-suit facilities, and Logistic hubs. GAW NP Industrial is not just a service provider. Still, it is also a reliable partner accompanying businesses during their whole investment project in Vietnam, aiming to create a win-win and long-term relationship.
Key Contact
Ms. Nguyen Phuong Thao – Leasing cum Asset Management Director
Tel: +84 9345 09 023
Email: phuongthao.nguyen@gawnpcapital.com
Warehouse for lease in Vietnam | Warehouse for rent in Vietnam | Factory for lease in Vietnam | Factory for rent in Vietnam