Huge potential spotted in supply chain investment in Vietnam
Despite challenges posed by the ongoing pandemic and economic instability, Vietnam still witnesses promising signs in the logistics industry in general and industrial real estate for lease in particular.
Recent statistics indicate that numerous international brands are progressively shifting their supply chains and logistics operations, building sorting centers, and expanding production to Vietnam. In addition to familiar names such as Samsung and Panasonic, international giants like Shibusawa Warehouse from Japan and DB Schenker from Germany have also actively pursued investment opportunities in Vietnam with plans worth billions of dollars.
The competition to attract investment capital in Vietnam's supply chain and logistics market has spurred remarkable industry growth, reaching an annual rate of 14-16%. Notably, import-export and retail are the leading sectors in driving the growth of the logistics and industrial real estate for lease market.
Furthermore, the government is actively implementing various plans to support the development of industrial real estate such as opening up the logistics sector to foreign investors, loosening foreign capital restrictions for specific industry groups, including warehouse operations, freight forwarding, distribution, courier services, etc.
GNP Yen Binh 2 industrial real estate for lease properties: Opportunities for foreign investors
Among all industrial real estate for lease properties in Thai Nguyen, GNP Yen Binh 2 has been garnering significant attention. It is developed and invested by Gaw Capital as a part of the Yen Binh Complex, which meets high standards for scale and quality.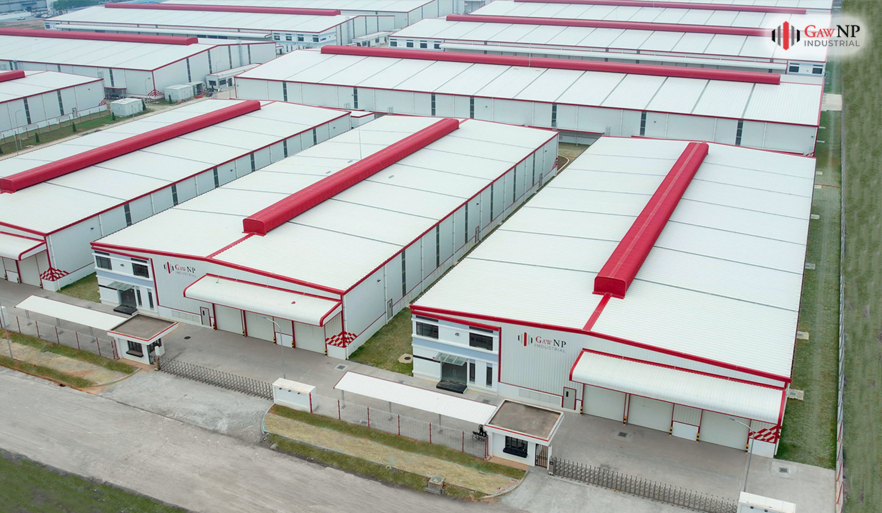 When it comes to competitive edges, GNP Yen Binh 2 is one of a few ready-built factories for lease properties to have a strategic location in Thai Nguyen. Situated along the Hanoi-Thai Nguyen highway and adjacent to the Yen Binh intersection, GNP Yen Binh 2 offers convenient access to Hanoi and neighboring provinces. More notably, the property has two entrances and exits to further facilitate transportation of people and goods.
Moreover, GNP Yen Binh 2's ready-built factories for lease are thoughtfully designed to cater to the specific needs of customers:
Column-free interior design that maximizes the usable area for businesses.
Automatic fire protection system that helps save on installation costs.
Transparent awnings that facilitate convenient import and export of goods.
Natural lighting system that promotes a well-lit and pleasant working environment.
The property also offers various additional utilities such as a wastewater treatment system, canteen, public toilets, garage facilities, a comprehensive one-stop rental service, customer service, etc.
GNP Yen Binh 2 is currently open for business visits. More notably, early contract signings come with attractive incentives, such as discounts, favorable rental rates, flexible payment options, and assistance with legal procedures for investing in Vietnam.
For further information, please reach out to our Hotline at +84 789 75 77 88.
Warehouse for lease in Vietnam | Warehouse for rent in Vietnam | Factory for lease in Vietnam | Factory for rent in Vietnam