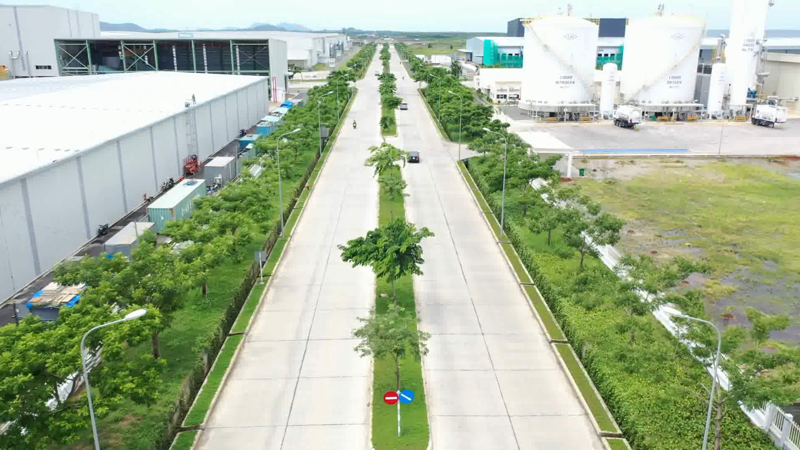 Demand for industrial real estate in Vietnam among investors from Taiwan (China) remains high, according to analysts at Savills Vietnam.
Projects from Taiwan (China) are mainly in manufacturing and processing, construction, and real estate. Mr. Neil MacGregor, Managing Director of Savills Vietnam emphasized that Taiwan (China) has been investing strongly in Vietnam over the past 30 years, especially in manufacturing and real estate.
In the initial years of Vietnam's open-door policy towards FDI, its low labor cost were an important driver in attracting major Taiwanese manufacturers in the garment and footwear sectors.
Dr. Su Ngoc Khuong, Senior Director of Investment Consulting at Savills Vietnam, said that although Vietnam's real estate market still faces certain difficulties, especially in regard to tightening credit, it holds major opportunities for foreign investors.
"The strength of Taiwanese investors when entering Vietnam include strong financial resources, experience in business and product development, a sizeable customer base, and lower financial costs," he added. "It is clear that there is a perfect combination between domestic enterprises and foreign investors in the current context."
Savills' figures show that investors in the manufacturing, industrial, and family investment fund groups are showing interest in many sectors in Vietnam, especially industrial and commercial real estate.
Mr. John Campbell, Deputy Director and Head of the Industrial Services Division at Savills Vietnam, said Taiwan (China) has contributed $215 million in newly-registered FDI capital to Vietnam's manufacturing sector.
He added that despite the challenges of the past few years, Vietnam continues to move up the value chain as its industrial sector grows strongly amid the looming global recession. "To accelerate its transition to higher value-added industries and services, Vietnam needs to improve the quality of its infrastructure projects," he said. "The government's Socio-Economic Development Strategy for the 2021-2030 period on education and training, human resources, and scientific and technical innovation is essential for a skilled, strong workforce in the future."
Figures from the Foreign Investment Agency (FIA) at the Ministry of Planning and Investment (MPI) show that Taiwan (China) ranked second in FDI in Vietnam in the first two months of the year, with nearly $407.1 million, or 13.1 percent of the total.
FDI projects in Vietnam's manufacturing sector from Taiwan (China) last year with the largest capital include a project of the Shinkong Synthetic Fibers Corporation (SSFC) at the Phu My 3 Industrial Park in southern Ba Ria-Vung Tau province, with an investment of $85 million, and a project of the Giant Manufacturing Vietnam Co., Ltd at the VSIP II Industrial Park in southern Binh Duong province, with a total investment of $60 million. Projects of Alpha Networks Inc. and the Taiwan Printed Circuit Board Techvest Co., Ltd in northern Ha Nam province had an investment of $30 million, as did a project of the Pioneer Material Precision Tech Co., Ltd. in northern Bac Giang province.
Warehouse for lease in Vietnam | Warehouse for rent in Vietnam | Factory for lease in Vietnam | Factory for rent in Vietnam