Global chip shortages are set to bring Vietnam a chance to develop, acquire and invest in cutting-edge technological expertise and semiconductors, according to a group of academic experts at RMIT University.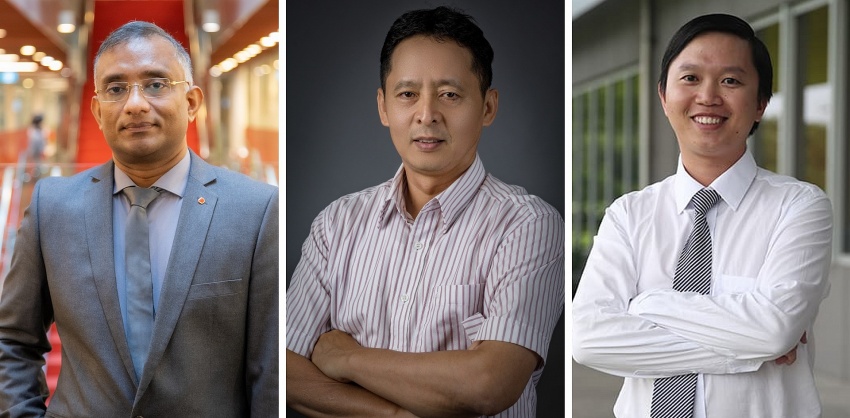 RMIT experts Majo George, Nguyen Manh Hung, and Nguyen Le Huy have discussed the ability of Vietnam to become a semiconductor manufacturer
As a result of the pandemic, there has been a severe chip shortage globally. Coronavirus has affected production by the "Big 4" semiconductor players in Taiwan, China, Japan, and South Korea. The work-from-home trend has increased the sales of laptops, home entertainment systems and game consoles, raising the need for chips and tipping the demand-supply balance.
A move to produce chips in Vietnam would be timely, as the world has a shortage and country is undergoing a digital transformation that includes a transition to digital governance, digital economy, and digital society.
"Venturing into chip manufacturing will be a chance for Vietnam to self-develop or acquire cutting-edge technological expertise. This might be a challenge, but the move will boost Vietnam's future aspiration to become the prominent manufacturing hub in the region," said Majo George, RMIT lecturer.
Local industries will be able to source locally manufactured chips. And Vietnam's chip output could help alleviate the global and regional shortage.
Nguyen Manh Hung, also an RMIT lecturer, said that producing chips in Vietnam was in line with the "Made in Vietnam" policy direction.
"Almost all aspects of modern society require semiconductors. If Vietnam can succeed in the semiconductor industry, it will be able to enter the supply chain of high-tech products such as communication equipment, computers, medical equipment, and military equipment," he said.
"However, building a competitive semiconductor industry requires more than just capital investment. It will be a challenge to access the right technologies and set up a supply chain that can ensure steady supply and consumption."
He said that the semiconductor chip production process had three main stages: design; manufacturing; and assembly, test, and packaging. The first two stages are high-value and high-tech processes associated with heavy research and development (R&D), specialised software, and specific production equipment. The final stage is very labour intensive, and has the lowest barriers.
"Joining stage three seems to be easiest for Vietnam at the moment. However, the main goal of the country's entry into this competitive market should probably be to strengthen its chip design capabilities and move towards producing high-end semiconductor components," Hung said.
Devising medium and long-term strategies
The global semiconductor chip industry is expected to grow 10 per cent in 2022 to over $600 billion for the first time ever and become a trillion-dollar industry by 2030.
Joining global R&D, design, production, and distribution of semiconductor chips will bring enormous economic advantages to Vietnam. Given the country's position and capabilities, medium- and long-term strategies are needed to develop the local semiconductor industry.
Nguyen Le Huy, also of RMIT, said that in the medium term, the country needed to participate in R&D stages that rely heavily on the human factor.
"The government needs to continue to invest and offer favourable policies to attract large corporations such as Samsung, Intel, Synopsys, and Cadence to establish or expand their semiconductor R&D centres in Vietnam. At the same time, it is necessary offer support training high-quality graduates in the field of semiconductors," he said.
"In the long term, Vietnam must reach cooperation agreements to support technology transfer from semiconductor leaders such as the United States, Japan, and South Korea. From there, the country can progress towards complete autonomy in all the important stages of semiconductor production," Huy added.
George said that quality assurance for Vietnam-made chips should be a priority, alongside periodic research and product updates. Employing highly skilled and experienced researchers and specialists will be a challenge. "Vietnam must increase training and development of local skills. This can be accomplished by collaborating with prestigious universities and research institutes," he added.
Specifically, at RMIT University Vietnam, semiconductor-based design and app development courses are taught in several engineering programs. Students can learn and practice with semiconductor chip design software from leading corporations such as Mentor Graphics and Synopsys, as well as complete capstone projects or internships with leading industry partners such as Intel, Faraday, and Renesas.
Source: Vietnam Investment Review
Warehouse for lease in Vietnam | Warehouse for rent in Vietnam | Factory for lease in Vietnam | Factory for rent in Vietnam