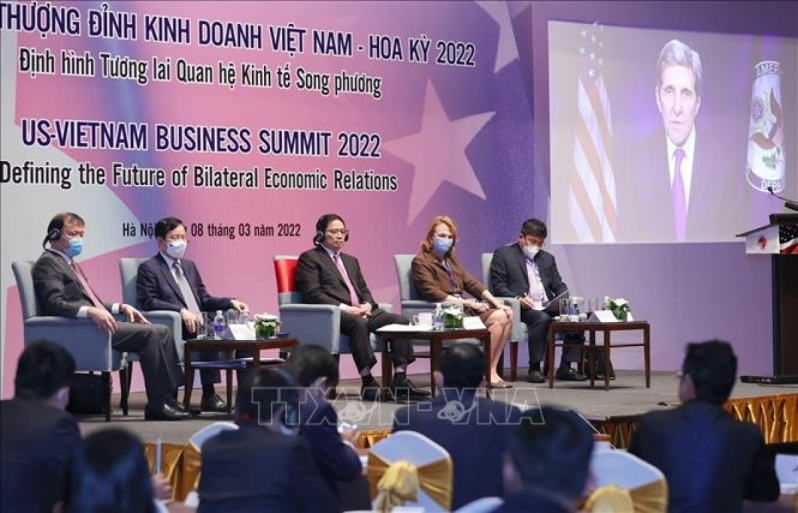 PM Pham Minh Chinh attends the US-Vietnam Business Summit 2022 on March 8
Sputnik reported many US experts and businesses affirmed at the March 8 US-Vietnam Business Summit 2022 that they attach special importance to the Vietnamese market. Marisa Lago, US Undersecretary of Commerce for International Trade, pointed out that the past two years has seen the two countries show recovery and obtain positive economic growth.
The US is the second largest trading partner and the largest export market of Vietnam, while the latter is the former's ninth largest trading partner.
According to Lago, more than 100 US experts are ready to support businesses of the two countries in investing and promoting two-way trade for further development.
Currently, the US has nearly 1,150 projects operating in Vietnam with a total registered investment capital of more than US$10.3 billion, ranking 11th out of 141 foreign investors in the Southeast Asian nation.
Despite difficulties caused by the COVID-19 pandemic over the past year, many leading US corporations such as Apple, Amazon, Google and Intel still announced their investments in Vietnam.
A survey conducted recently by the American Chamber of Commerce in Vietnam (AmCham) revealed nearly 80% of its members rated the medium and long-term prospects in the Vietnamese market very positively or positively.
According to AmCham Hanoi CEO Adam Sitkoff, the growing trajectory in trade and investment between the two countries would continue to be maintained and accelerated in the coming time.
The fact that the Vietnamese Government has constantly improved the country's business environment and removed difficulties for investors will be the prerequisite for US businesses to continue pouring capital into Vietnam, he said as quoted by Sputnik.
Representatives of businesses and investors of the two countries acknowledged that there remains ample room for bilateral trade and investment relations to prosper. The US considers Vietnam an important link in the global goods supply chain, and forecasts this role will increase in the future.
Charge d'affaires Marie Damour of the US Embassy in Vietnam also said that the two countries' businesses are maintaining strong investment cooperation spanning various areas such as health care, energy, and education.
She voiced the US commitment to supporting Vietnam in achieving its ambitious climate change response goals outlined at the 26th UN Conference on Climate Change (COP26) in Scotland late last year.
Although it is not easy, this presents an opportunity for businesses of both sides to develop viable projects on renewable energy in the long-term, said the US diplomat.
Source: VOV
Warehouse for lease in Vietnam | Warehouse for rent in Vietnam | Factory for lease in Vietnam | Factory for rent in Vietnam