With Gaw NP Industrial as the main developer, GNP Dong Van 3 offers a wide range of ready-built warehouses and factories for lease to meet the ever-growing demand in the supply chain.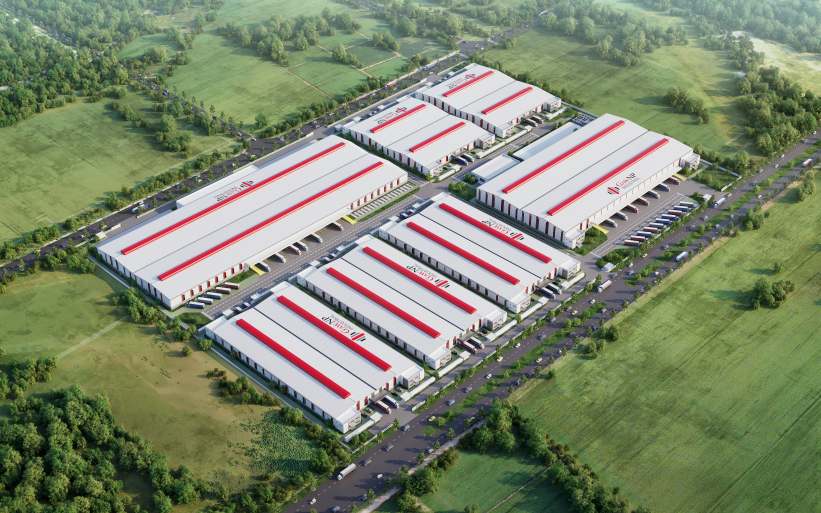 1. Locational advantages
GNP Dong Van 3 is adjacent to National Highway 1A, east of the Cau Gie – Ninh Binh highway, Highway 38, and the North-South railway. Additionally, it is situated right next to the gateway of the Hanoi capital. In other words, the ready-built warehouses for lease in GNP Dong Van 3 are only within 40 kilometers from Hanoi, 70 kilometers from Noi Bai airport, 130 kilometers from Hai Phong port, and 120 kilometers from Lach Huyen deep seaport.
Furthermore, GNP Dong Van 3 allows businesses to travel and transport goods to neighboring cities such as Bac Ninh, Ninh Binh, Hung Yen, etc.
2. Labor force and policies advantages
Ha Nam is now in the period of a golden population structure with a working-age population accounting for 55.52% (as of 2020), and a significant proportion of migrant workers. Its labor force is diverse in terms of age groups, skilled, productive, and cheap. This presents a valuable opportunity for businesses investing in Ha Nam to optimize their production costs and fully leverage the available local resources.
Moreover, Ha Nam continually upgrades its infrastructure to facilitate transportation and refining policies to foster economic development. Policies to attract foreign direct investment (FDI) are tailored to best support businesses. For example, the province creates favorable conditions for businesses to learn about the investment climate and launch businesses; provides timely advice on mechanisms and policies; offers incentives such as discounts in land rental prices, corporate income tax exemptions; grants access to financial institutions for loans; increases the supply of ready-built warehouses for lease, etc.
3. Design advantages of ready-built warehouses at GNP Dong Van 3
Ready-built warehouses at GNP Dong Van 3 not only boast a prime location in a key economic region of the country, with high levels of investment attraction and convenient transportation but also offer optimal designs to cater to the production and business requirements of various industries:
A column-free design that maximizes usable space
A maximum roof height of 10m
A maximum floor load of 3 tons/m2
Fixed partitions covered with a safe, fireproof layer
Ventilation systems on both sides of the factory
A security system, including automatic 24/7 fire protection
An integrated water supply and wastewater treatment system
An EDGE Certificate for energy savings
Flexibility to operate as EPE or Non-EPE
Compliance with the highest international standards of quality and safety, giving businesses peace of mind when operating in GNP Dong Van 3.
4. Rental policies advantages
To offer maximum support to businesses, the ready-built warehouse for lease project GNP Dong Van 3 provides a diverse range of rental areas, flexible payment methods, and several incentives. Additionally, businesses that choose GNP Dong Van 3 will get legal advice from start to finish to go into operations more quickly.
The GNP Dong Van 3 ready-built warehouse project is slated for completion in the first quarter of 2023. Once the contract is signed, businesses can kick off operations immediately with the readily available infrastructure and utilities. For further inquiries, please contact our Hotline at +84 789 75 77 88.
Warehouse for lease in Vietnam | Warehouse for rent in Vietnam | Factory for lease in Vietnam | Factory for rent in Vietnam