The capability and reputation of ready-built factory's developers
Once the business has determined the suitable area to rent a ready-built factory, it's important to assess the capability of the project developer. At present, there are several well-known providers in the market, in which Gaw NP Industrial is considered one of the leading industrial real estate for lease providers.
Gaw NP Industrial was founded by Gaw Capital Partners, a global real estate private equity firm, and NP Capital Partners, a real estate company with an extensive business network in Vietnam. Therefore, drawing upon international expertise and knowledge of the area, Gaw NP Industrial has pioneered in offering multiple types of factories for lease, industrial real estate for lease, and consulting services for both domestic and foreign investors.
At present, Gaw NP Industrial owns and is developing numerous projects that have gained considerable attention such as GNP Yen Binh 1 and GNP Yen Binh 2 in Thai Nguyen, GNP Nam Dinh Vu in Hai Phong, and GNP Dong Van 3 in Ha Nam.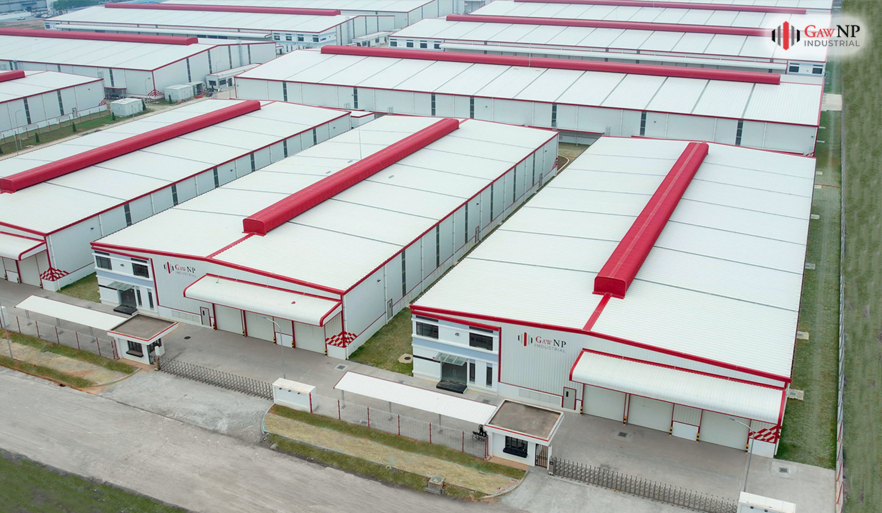 Delivery progress and delivery time
As each ready-built factory project is different from each other, the time required to complete also varies. To avoid falling victim to scam projects, businesses should carefully check the time physical construction begins, as well as the construction progress when considering renting the factory.
In addition, it's advisable to review the progress and handover time of previous projects to make an informed decision.
The design of ready-built factories
One of the key factors that businesses need to take into consideration when renting a ready-built factory or warehouse for lease is the design. Businesses operating in different industries require different types of factories to meet their specific needs. Therefore, you should consider the kind of factories built with maximizing usable area by using column-free design, wide and multi-lane internal roads that meet quality standards.
In addition, the ready-built factory should be equipped with modern infrastructure such as standard wastewater treatment systems, fire prevention systems, 24/7 security, and more so that businesses can go into operations quickly,
Preferential policies
Project providers typically offer several preferential policies, including price discounts, additional services, and legal support for foreign clients to attract a long-term lease commitment. Therefore, businesses should clearly discuss with the provider and sign the contract as early as possible to get the best possible deals.
GNP Nam Dinh Vu: Ready-built factories for rent that meets the needs of foreign businesses
Among countless options of ready-built factories, many foreign businesses put trust in GNP Nam Dinh Vu project in Hai Phong. The whole factory and warehouse complex offers a minimum leased area of 2,500m2 in Hai Phong Industrial Park. What sets this project apart is its strategic location at a major transportation hub with many key routes, including Van Don and Cat Bi international airports, Hai Phong and Cai Lan seaports, all within a 50km radius. In addition, it is only a 2-hour drive through Hai Phong – Hanoi Express to visit GNP Nam Dinh Vu from Hanoi.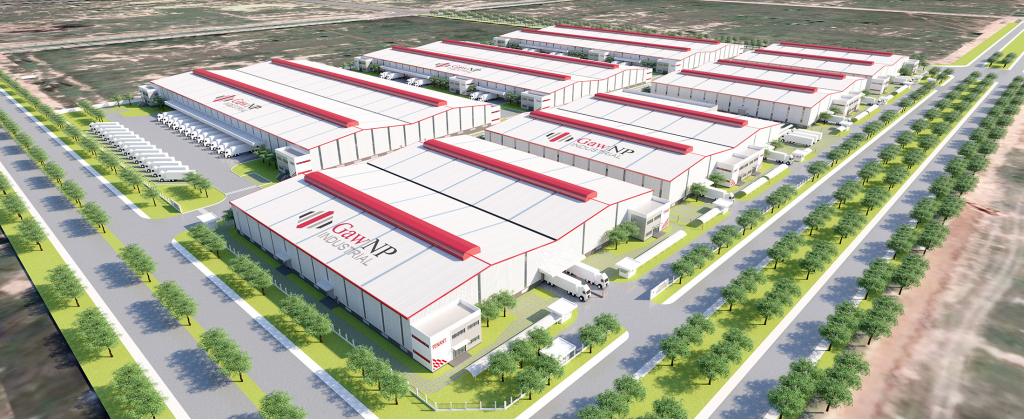 Optimal design
The entire ready-built factories are designed for optimal performance and absolute safety, with modern features such as a column-free structure, a floor capacity of up to 3 tons/m2, a hydraulic lifting floor with a capacity of 6 tons, etc.
Synchronous infrastructure and facilities
GNP Nam Dinh Vu boasts 24/7 fire protection and security systems, along with wide internal roads within the industrial park. Furthermore, ready-built factories at GNP Nam Dinh Vu can choose to flexibly operate as an export processing enterprise (EPE) or a normal enterprise (Non-EPE).
Extremely preferential policies
Businesses that sign a contract to rent a ready-built factory at GNP Nam Dinh Vu in this stage will benefit from flexible payment methods, preferential discounts, and support with legal procedures when launching a business in Vietnam.
With these outstanding advantages, GNP Nam Dinh Vu ready-built factory project will help businesses boost production, reduce costs, and go into operations immediately after investing in Vietnam. Contact our Hotline at +84 789 75 77 88 for more information!
Warehouse for lease in Vietnam | Warehouse for rent in Vietnam | Factory for lease in Vietnam | Factory for rent in Vietnam