Vietnam has witnessed an incredible inflow of foreign investments, especially in industrial real estate with ready-built factories. Low costs, a stable economy & supportive government policies are key elements that attract entrepreneurs.
Vietnam: The Must-Invest Destination For Businesses
Aside from the investment scene, there are several reasons why international firms want to invest and manufacture in Vietnam.
Strategically Great Location: Located in the center of Southeast Asia, Vietnam provides strategically advantageous geographical features that allow businesses develop international shipping routes at ease. Additionally, the nation not only boasts a coastline of over 3,200 kilometers but is also placed on the Trans-Asian Railways (which belonged to the United Nations Economic & Social Commission for Asia), making Vietnam a prime location for maritime trade.
In detail, Thai Nguyen, located in the North of Vietnam, ranked second in terms of FDI index during the first two months of 2022. It can be explained by the fact that international enterprises, particularly small & medium-sized ones, tend to rent ready-built factories to expand their production when this region shares borders with Ha Noi through the Ha Noi – Thai Nguyen expressway.
Socio-Political Stability: Apart from the country's location, the stability of society & politics works to encourage more international investors to set up their businesses in Vietnam. In comparison to other countries, Vietnam has never experienced a political crisis. Instead, the Vietnamese government offers attractive incentives to foreign companies that invest in Vietnam.
Openness To Foreign Investment: Many markets have restrictions on foreign ownership in certain industries. However, the Vietnamese government is constantly changing regulations and putting incentives in place to attract international firms. Multinational companies, for example, could enjoy the tax exemption from import duties, corporate income, or land use taxes. Moreover, this nation aims to develop more industrial zones with ready-built factories. Besides, doing business in Vietnam is getting easier every year due to the fact that the business environment is constantly improving. This country has become a member of some economic organizations such as ASEAN Free Trade Area (AFTA); European Union-Vietnam Free Trade Agreement (EVFTA); Comprehensive and Progressive Agreement for Trans-Pacific Partnership (CPTPP), or Regional Comprehensive Economic Partnership (RCEP), etc.
Competitive economical costs: With its low labor costs & a stable yet growing economy, Vietnam is a more cost-effective alternative to some countries, which helps international enterprises save huge expenses for hiring young & skilled workers.
Furthermore, when it comes to competitive ready-built factory rents, transportation, or manufacturing costs, Vietnam still has one of the lowest economic costs in Southeast Asia when compared to other world factories. Foreign investors could save maximum initial investment costs & increase their profits in the long run.
Ready-built Factory In GNP Yen Binh 2: Compelling Choice For Foreign Businesses When Investing In Vietnam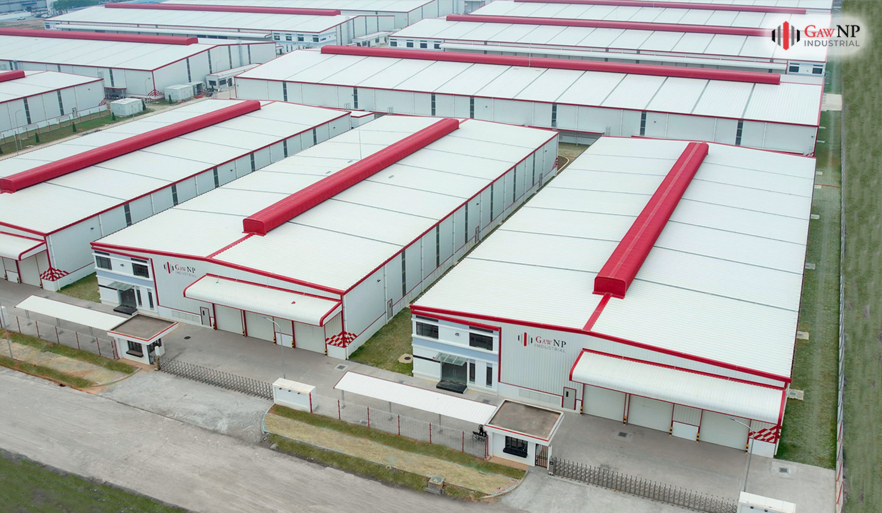 GNP Yen Binh 2 Industrial Center is considered as a potential place by foreign enterprises.
Premium-built factories of GNP Yen Binh 2 Industrial Center in the North of Vietnam have fascinated foreign enterprises by offering them some surpasses.
Located in a strategic location in Thai Nguyen: Established on a 16-hectare land, ready-built factories of GNP Yen Binh 2 provide a variety of scales from 2,500 meters, providing more choices for enterprises to exploit and settle down their business processes in the North. Furthermore, this project is located on the major freight route: 0.5 hours to Noi Bai international airport, 01 drive-hour to Ha Noi & neighboring logistics hub via Ha Noi – Thai Nguyen expressway, bringing exceedingly conveniences in terms of product transportation.
Tenant-focused specifications that ensure production & labor safety: The optimal architecture is another outstanding benefit that makes GNP Yen Binh 2 a compelling choice: An open factory floor plan with no internal columns maximizes manufacturing space; a consecutive canopy makes loading and unloading goods convenient regardless of weather conditions; an automatic fire sprinkler system ensures safety; and the wide internal roads directly connect with main freight route with 04 entrances & exits.
Equipped with high-standard utilities: The ready-built factories of GNP Yen Binh 2 are always equipped with Sewage Treatment Plant, public canteen & toilet, bike parking, nearby residential area, etc. Businesses that choose GNP Yen Binh 2 can be assured of a timely start-up.
In the nutshell, the premium-built factories of GNP Yen Binh 2 are a potential destination for foreign enterprises looking to settle down, develop and expand their productivity & stabilize production in Vietnam.
Warehouse for lease in Vietnam | Warehouse for rent in Vietnam | Factory for lease in Vietnam | Factory for rent in Vietnam