Ready-built factory has recently become a new investment trend for foreign enterprises planning to shift or expand production line into Vietnam.
Advantages that make the ready-built factory became the first choice
Ready to move-in factory is a pre-built factory model that meets certain standards such as structure, design, area as well as service utilities. In recent years, the demand for renting ready-built factories has increased significantly. Many domestic & foreign enterprises reap substantial benefits from both production and investment when choosing this model:
Saving time for initiating the production process: Generally, businesses have to spend months to years building up a factory depending on the production scale. In contrast, by choosing a premium-built factory, enterprises only need to fit-out their production line and may instantly start operation without causing any time consumption or extra costs.
Optimizing initial & long-term production cost
Businesses when entering a new market tends to build their own factories. The recent trend and case studies have proved that this choice is no longer an optimal initial solution since its causing high risk, and high cost. Meanwhile, by renting ready-built factories, enterprises could save several preliminary time and costs, including land lease, design and build, and the opportunity cost of having to postpone the production timeline until the factories are all set. Instead, with the same amount of initial time and costs, businesses can focus mainly on human resources or machinery investment to maximize productivity if choosing the ready-built factories segment.
Expanding production area at ease: Ready-built factories are an ideal choice for startups, SMEs or businesses that first enter into Vietnam market. With a variety of scales, strategic locations across Vietnam, and short lease term, enterprises can first start with a small scale to get to know the market, then easily expand to a larger scale after a few production years, when the operation and cash flow is more stable.
Supporting legal procedures: Besides costs, legal procedures are one of the most time-consuming steps that businesses need to get granted before working. The ready to move-in factory will be the solution as the for-lease unit often support & consult to complete all investment documents. SMEs or new enterprises will only need to focus on fitting-out and operation issues to quickly start production.
Yen Binh 2: Ready-built factory for rent that meets the needs of domestic & foreign businesses.
Thanks to the advantages of saving time and costs, the supply of ready-built factories is soaring robustly to meet the rising demand of different production scale. However, there still is a shortage of premium-built factories developed by reputable developers with affordable rent fees, and fully supported services to assist new SMEs investing or manufacturing in Vietnam.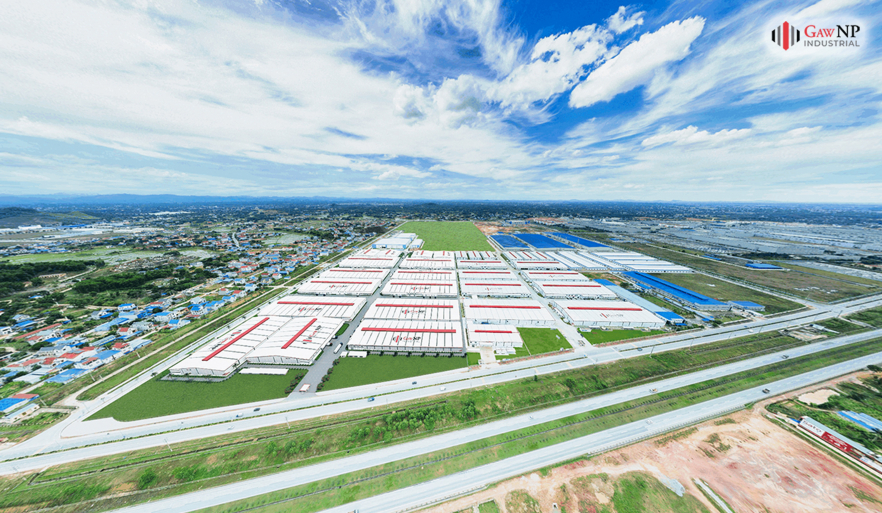 Overview of GNP Yen Binh 1 & 2 Industrial Center
When it comes to the manufacturing industry, GNP Yen Binh 2 Industrial Center, located in a strategic location – Thai Nguyen, has its reputation in the eyes of domestic & foreign enterprises with well-qualified standard & services.
Situated on a 16-hectare land, ready-built factories of GNP Yen Binh 2 provide diverse scales from 2,5000 meters, the project is a supreme choice for enterprises to exploit and settle in the North. Adjacently located to key freight route: 0.5 hours to Noi Bai international airport, 01 drive-hour to Ha Noi and neighboring logistics hub via Ha Noi – Thai Nguyen expressway, which is extremely convenient for goods transportation.
Other outstanding points that make GNP Yen Binh 2 a top considering list are the tenant-focused specifications: An open factory floor plan with no internal columns helps maximize manufacturing space; an automatic fire sprinkler system ensures safety; a consecutive canopy brings convenience in loading and unloading goods despite any weather conditions; the wide internal roads directly connect with key freight route with 4 entrances and exits.
Foremost, the ready-built factory of GNP Yen Binh 2 is equipped with high-standard utilities: Sewage Treatment Plant, public canteen & toilet, bike parking, nearby residential area, etc. By choosing GNP Yen Binh 2, businesses are assured to quickly go into operation.
To sum up, the ready-built factory of GNP Yen Binh 2 is a trusted destination for domestic & foreign enterprises to locate, grow and enhance their productivity and stabilize production in Vietnam.
Contact our Hotline +84 789 75 77 88 for more advice!
Warehouse for lease in Vietnam | Warehouse for rent in Vietnam | Factory for lease in Vietnam | Factory for rent in Vietnam