Out of the reaches of COVID-19 and the Sino-US trade war, is Viet Nam's offering sufficient to attract FDI?
Global manufacturers are swiftly migrating factory space away from China and into the developed industrial markets of Southeast Asia. It's an open question, however, as to whether Viet Nam's young, competent workforce, strategic geographic location and preferential CIT rates are tantalising enough prospects for investors setting up new manufacturing facilities.
The fact that while the entire industry is still in the shadow of a pandemic, Viet Nam's government has delivered an exemplary response to the coronavirus that has been prompt, well-communicated and unburdensome is an assertion of Viet Nam's ability to anticipate and respond to any perilous events, imminent or current. More importantly, Viet Nam brings to the table one of the most politically stable administrations in Southeast Asia, balancing strong governance with policies that are especially favourable to investors in the manufacturing sector.
With the recent ratification of the EVFTA eliminating almost all tariffs between European and local markets, the numerous attractions to corporate sharks in the region, including Samsung, LG, Panasonic, Intel, Pegatron, Qisda and Wistron, Viet Nam is now better placed than ever before to offer foreign investors the benefit of its strategically positioned logistics and transport systems.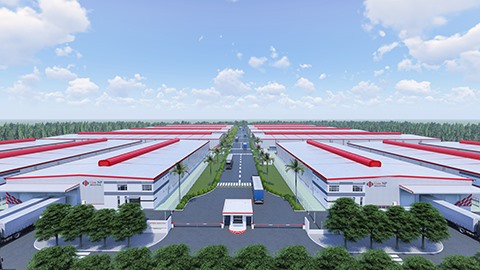 Gaw NP Industrial – A Unique Case Study
Gaw NP Industrial is a strong new player in an industry that has attracted steady levels of FDI into Viet Nam. Given that built-to-suit (BTS) and ready-built-factory (RBF) are now recognised as core solutions for manufacturers setting up new operations within the region, Gaw NP is already offering premium RBF space for first-class tenants within one of the country's leading industrial zones at Thai Nguyen – noted for its attractive investment policies and proximity to key transport routes.
The firm's GNP Yen Binh project – tidily placed within easy reach of the capital, the Viet Nam – China border, the international airport and three major highways to Viet Nam's deep-water ports – is a 13-hectare development with a total area of 90,000 sqm RBF to be fully completed within 2021.
GNP Yen Binh is among those rare ready-built facilities that comes preinstalled with a complete factory infrastructure to optimise investors' initial outlay.
The factories feature fire sprinkler systems with open factory floor plans without internal columns to maximise the production area, and mezzanine offices for clients to oversee the production line. The project has been constructed with all-in-one supporting facilities standing ready to facilitate smooth operations, such as 129m-long consecutive canopies, 400-seat indoor staff canteens as well as Sewage Treatment Plan. Transport within the complex is facilitated by a 25–27-metre-wide internal road, allowing easy access for containers.
Gaw NP Industrial stands out in that the firm not only seeks to act as an industrial property lessor, but also to forge strategic partnerships with its clients, forming a sustainable development programme.
The firm's focus on genuine trusted partnerships that should offer benefits to manufacturers for years to come is at the core of what has brought Gaw NP Industrial to the attention of numerous global corporations in the industry. It stands among those businesses now leading Viet Nam into the spotlight as major international firms seek new territories for manufacturing.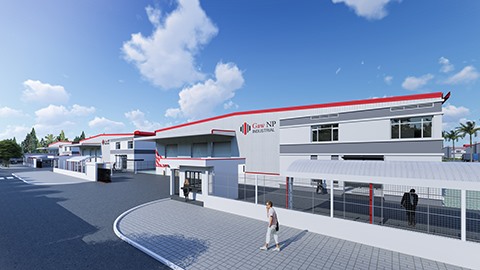 About GNP Yen Binh – Industrial Centre project
– Product: Ready-built-factory (RBF) for Lease
– Land area: 13 hectares
– Divided into two phases
Phase 1: approx. 45,000 sqm
Phase 2: approx. 45,000 sqm
– Expected completion time: 2021
– What we offer:
Rent free period & fit-out period
Competitive rental rates
Flexible lease terms
All included facilities
Seamless one-stop-shop leasing process (including assisted leasing, registration, and other value-added services).
Warehouse for lease in Vietnam | Warehouse for rent in Vietnam | Factory for lease in Vietnam | Factory for rent in Vietnam